All American's Olivia makes a shocking discovery at Billy's memorial celebration
In an emotional episode, the young Baker stumbles upon a secret and fans react.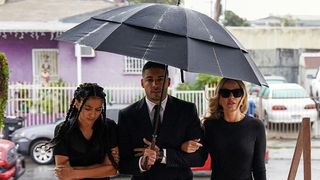 (Image credit: Ser Baffo /The CW)
For many All American season 5 viewers, they still find themselves in a state of mourning after the surprising death of Billy Baker (Taye Diggs). The loss was completely unexpected and will undoubtedly impact the entire canvas of the show.
In an episode titled "Lost One" that aired on February 20, viewers got to see the beginning stages of the ripple effect of Billy's passing as his family and friends rallied together to say goodbye. His wife Laura (Monet Mazur) understandably was barely able to hold it together, often snapping at those closest to her. Jordan (Michael Evans Behiling) barely allowed himself time to grieve as he made it his mission to take care of his mom and siste. Then there was Billy's "adoptive" son, Spencer (Daniel Ezra). As close as Spencer and Billy were, the young football protégé never seemed to settle in his grief and kept running around doing favors for the Baker family. However, judging by the preview of the next episode, Spencer will soon find his feelings bubble up in somewhat of an explosive way.
Someone else who was very important to Billy that was trying to process his death was his only daughter Olivia (Samantha Logan). She went through waves of tears throughout the episode and even caused fans to join her in crying when she shared with Spencer that she was unable to finish her eulogy because her "dad is a lot of things, but most importantly, he was my everything. How am I supposed to put that into words?"
"he was my everything" Liv continues to only be able to express herself to Spencer 🤧 #AllAmerican pic.twitter.com/jVHmlXnIGHFebruary 21, 2023
While the majority of the episode was sad and somber, one moment that did bring a smile to Olivia's face, and in turn the viewers, was when she made a surprising discovery about her brother. While sitting seats away from Jordan and Layla (Greta Onieogou) at Jordan's impromptu homegoing celebration at the Billy Baker Football Field, Olivia spotted her brother and best friend holding hands. Given the expression on her face, when she confronts the couple about their secret romance, she will give her blessing and root them on.
We have to say, it's about time Olivia found out the two are dating considering how many awkward moments she's caught Jordan and Layla in this season.
All American fans react to Olivia's discovery
Viewers loved seeing Olivia unearth the truth of the #Jayla romance. Now what they were less excited to see was her pick up the bottle of alcohol in the last few minutes of the episode. Given she's a recovering addict and now grieving, the question becomes is she primed to relapse?
Olivia catching THE Jordayla handhold. Just everything. 🥰🥺 #AllAmerican pic.twitter.com/At4vwlt9vwFebruary 21, 2023
Olivia smiling when she saw Jordan and Layla holding hands #AllAmericanCW #AllAmerican pic.twitter.com/htN1NCaCarFebruary 21, 2023
NO LIV NOT THE BOTTLE… PLEASE!! OUU WHEN I CATCH THESE WRITERS #AllAmerican #AllAmericanCW pic.twitter.com/7SW2bcgxsRFebruary 21, 2023
The way they use Olivia's sobriety in this show is very disgusting. Always using it for dramatics. 3rd time they've used it as a cliffhanger. And they never give her recovery or staying on track part of it the necessary attention afterwards. #AllAmericanFebruary 21, 2023
I SWEAR IF THEY HAVE LIV DRINKING AGAIN… #AllAmerican pic.twitter.com/DxmoOP6tkDFebruary 21, 2023
All American season 5 continues to air on Mondays on The CW.
Get the What to Watch Newsletter
The latest updates, reviews and unmissable series to watch and more!
Terrell Smith has a diverse writing background having penned material for a wide array of clients including the federal government and Bravo television personalities. When he's not writing as Terrell, he's writing under his pseudonym Tavion Scott, creating scripts for his audio drama podcasts. Terrell is a huge fan of great storytelling when it comes to television and film. Some of his favorite shows include The Crown, WandaVision, Abbot Elementary and Godfather of Harlem. And a fun fact is he's completely dialed into the TLC 90 Day Fiancé universe.