Dylan resigns in Casualty! Will he drink himself to death?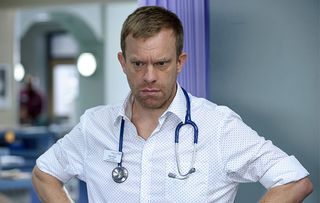 (Image credit: BBC / Alistair Heap)
Dr Dylan Keogh turns his back on the ED when his drinking becomes dangerous for patients…
In Casualty this weekend Dylan leaps into his own personal alcoholic abyss. Warning: Contains spoilers!
On the surface doctor Dylan Keogh seems the epitome of calm, efficiently running the emergency department while clinical lead Connie Beauchamp (Amanda Mealing) recovers from her near-fatal battle with cancer. Yet underneath the surface he is struggling to keep afloat. Not only is he downing in hospital paperwork he's also hit the bottle!
Alcoholic Dylan (William Beck) started secretly drinking again in October, after Connie almost discovered he'd smuggled refugee boy Sanosi Jemal, into the UK from France. He has privately been tormented ever since he reluctantly drove Sanosi to a police station so the boy could hand himself in. Stricken with guilt for protecting his career over caring for Sanosi, Dylan has been sinking deeper and deeper into the habit of drowning his sorrows, both at home and at work. He's also isolated himself from friends, nurses David Hide and Louise Tyler, who helped cover up Dylan's Sanosi secret last year…
This week frustrating IT issues at work push him towards the edge and have him reaching for his secret whiskey stash in his desk drawer. Later, while doctor Ethan Hardy (George Rainsford) is at a career-changing interview to become a consultant, a dispassionate Dylan ill-advisedly allows Ethan's patient, Justine Carter, to discharge herself even though she's clearly hiding something serious from the medics!
Later, when Justine winds up back in the ED desperately fighting for her life, Ethan dishes Dylan a piece of his mind, giving the acting clinical lead pause for thought. Private to a fault and with no one to confide in Dylan makes a call and hands in his notice as acting clinical lead!
The big question now is, will the depressed doctor turn up for work as a consultant next week or is he planning on drinking himself to death?
Get the latest updates, reviews and unmissable series to watch and more!
Thank you for signing up to Whattowatch. You will receive a verification email shortly.
There was a problem. Please refresh the page and try again.