EastEnders fans slam "disgusting" twist as 12-year-old Lily is revealed to be pregnant
EastEnders viewers say the storyline is "ick" and "vile"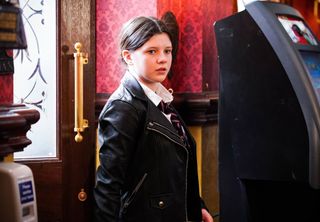 (Image credit: BBC)
EastEnders fans have been sharing their shock and surprise at the New Year twist that revealed 12-year-old Lily Slater is pregnant!
Viewers were horrified at last night's cliffhanger when baffled mum Stacey Slater discovered her pre-teen daughter was expecting a baby.
And they took to social media to share their feelings on what is bound to be a controversial storyline.
The latest bombshell to hit the Slaters happened after their New Year's Eve party.
When Eve, Jean and then Lily all collapsed, the family were taken to hospital because paramedics thought there was a carbon monoxide leak at their house.
A frantic Stacey rushed to the hospital where a doctor told her he was worried about Lily's bad stomach aches.
He explained that they'd done an ultrasound to find out the cause of the pain, and had discovered that Lily was pregnant.
Stunned, Stacey stuttered Lily couldn't be pregnant because she is 12 years old.
But it seems it's true.
And the EastEnders fans were just as surprised as Stacey!
They shared their shock with one fan writing: "Lily's WHAT NOW?" and another adding: "I defo did not see that one coming".
And once they'd got over the surprise, the EastEnders viewers were quick to share their discomfort with the story.
One fan wrote: "I don't find the idea of telling a story where a 12 year old is pregnant daring, edgy or brave. I think it's totally disgusting."
Another said the story was "vile" because Lily is still a child, while another added that Lily being pregnant was "massive ick".
There are a lot of questions to answer when it comes to this story - including who is the dad of Lil's baby? Is the pregnancy the result of a tween romance, or is it more sinister and linked with grooming or abuse?
Some fans have even suggested we could see a return of Lily's own dad Ryan Malloy who was mentioned in passing a few weeks ago.
We'll have to wait and see what happens next.
EastEnders usually airs Monday to Thursday evenings at 7.30pm on BBC One. Check our TV Guide for more information.
Get the latest updates, reviews and unmissable series to watch and more!
Kerry is a writer, author and editor with a lifelong love of the soaps, a passion for TV drama of all kinds, and an obsessive devotion to Strictly Come Dancing.
She was features editor of All About Soap magazine for more than a decade, covering every bit of excitement from all the UK soaps and the Aussies and still writes about all the juiciest gossip from the Street, the Square and the Dales whenever she can.
Kerry's also an author of historical fiction, and her two jobs collided when she got the chance to write two novels based on Emmerdale, and the Sugden, Tate and Dingle families, during WW2.
Thank you for signing up to Whattowatch. You will receive a verification email shortly.
There was a problem. Please refresh the page and try again.