EastEnders star Samantha Womack 'hates' that she can't return as Ronnie Mitchell after being killed off by show bosses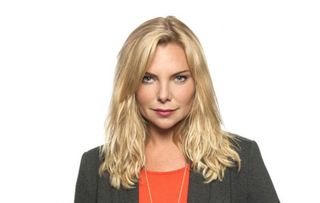 Ronnie Mitchell and her sister Roxy were killed off on New Year's Day 2017
EastEnders star Samantha Womack has expressed her sadness at not being able to return to the BBC1 soap after her character Ronnie Mitchell was killed off.
But while she has enjoyed other career opportunities since her departure, Samantha admits she 'hates the idea' that the door has been permanently closed for her after playing Ronnie for 10 years.
'The last year and a half has been so exciting and a bit like a rebirth,' she told OK! magazine.
'But I hate the idea that I can't go back – unless I come back as some weird Australian twin sister!'
Ronnie and her sister Roxy, played by Rita Simmons, both drowned just hours after Ronnie tied the knot to Jack Branning, played by Scott Malsen, on New Year's Day 2017.
Just over a year on, the star confessed that while she understands the importance of keeping the show fresh, she struggled to understand the need to kill Ronnie off because the Mitchells are an important family on the soap.
'I understand they have to regenerate and constantly recast, but my complaint was when you have two characters who are embedded within the fabric of that community, by killing them completely you're removing them from any future producer. It's short-sighted.'
She added: 'I'd have loved to go back at some point. The Mitchell family are such a huge part of that show's culture – Peggy had gone and then the two Mitchell sisters.
'It's a shame to rip out the roots of such a long-serving family.'
Following her departure, Samantha admitted that she had to 'mourn' the loss of her character and the 'family' she had made on the show.
The mother-of-three divulged: 'There was a period of mourning. Rita Simons was my pretend sister for nine years so when I got my next job and worked away from home, my real family and my fake family had been taken away!'
Jenni McKnight is a beauty, lifestyle and entertainment journalist, currently US Lifestyle Editor for HELLO! Online. She has also written for HELLO! Magazine, GoodTo, CelebsNow, Daily Mirror and Yahoo! Her first big break came when she interned on the Guilty Pleasures showbiz desk at Metro newspaper. She has since worked on the online lifestyle team at Woman & Home and Woman and was Senior Content Editor at CelebsNow.
Thank you for signing up to Whattowatch. You will receive a verification email shortly.
There was a problem. Please refresh the page and try again.