Gogglebox's Sandra Martin: 'I'd love to be in Eastenders'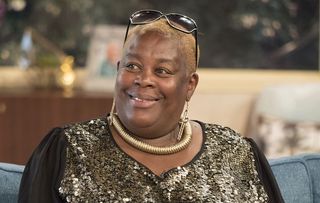 (Image credit: Shutterstock/Rex)
She made her name in the popular Channel 4 series Gogglebox, but it looks as though Sandra Martin is now keen to try her hand at a career in soap acting too.
The 56-year-old revealed to Daily Star Sunday that she's a huge fan of BBC drama Eastenders, and would love the chance to star in it.
She confessed, "I've been watching the soaps for 30 years and I love EastEnders.
"I'm addicted so bad that I'm always posting stuff online about it – my fans know that. So I'd love to be part of the show."
The TV personality also revealed that she even has a character in mind for her starring role on the hit soap.
Sandra admitted that she'd love to play Patrick Trueman's sister, and would work on a stall in the famous Albert Square. She said, "If I joined the show I couldn't be a villain. It's not in my blood.
"Everybody who knows me knows I'm a nice girl. I couldn't play a bad part. I'd want to play someone nice."
However, there could be one thing holding the former Gogglebox star back from her dreams of soap-stardom, as she's confessed that she doesn't actually have any experience of acting.
Sandra said, "I haven't had any acting experience... But I was mentioned on the show once – there was a scene where one of the characters was joking around and said, 'Have you got a date with Sandra from Gogglebox?'.
"So I know they must like me!".
We think you'd be brilliant Sandra!
Gogglebox favourite Sandra announced that she had quit the Channel 4 show back in July 2017 - after offering up her opinions on the sofa for over four years.
She joined the show in its very first series back in 2013, with her best friend Sandi Bogle. Sandi however left the show in 2016, and Sandra admitted that continuing on with the series wasn't quite the same after her best pal left.
Speaking on This Morning, she confessed, "Sandi left last year as everyone knows, she's my TV partner, and my daughter came on after.
"I want to pursue my career to do other things, Sandi had gone before, but it wouldn't have been the same with my daughter.
"There are certain subjects that I can't discuss with a 24-year-old."
Eastenders returns to BBC One on Monday night, 8pm. Gogglebox will also return to Channel 4 next Friday at 9pm.
Get the latest updates, reviews and unmissable series to watch and more!
Thank you for signing up to Whattowatch. You will receive a verification email shortly.
There was a problem. Please refresh the page and try again.