EastEnders star Lacey Turner on the SHOCK Stacey twist she never saw coming!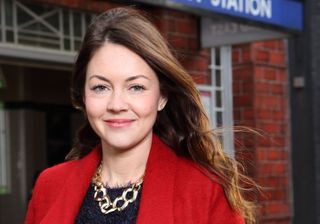 (Image credit: BBC/Kieron McCarron)
Lacey says Stacey still has deep feelings for Max
EastEnders star Lacey Turner laughs that she never saw the shock twist coming up in the soap that sees Stacey Slater's best mate Ruby Allen hooking up with her ex Max!
The 31-year-old star, who's just given birth to a baby girl, reveals that the drama will begin in EastEnders next week when Stacey starts becoming concerned about the behaviour of her former lover.
"Max is clearly not coping without Abi, and nobody knows Max better than Stacey," she says. "They've got so much history, she can read him like a book. Seeing him struggling, Stacey is drawn to help, she cares about Max, she always will."
MORE: Check out the latest Coronation Street spoilers
During an intense heart-to-heart, Max makes a surprise admission to Stacey.
"Stacey's heart goes out to him and Max is clearly lost and struggling without Abi, but I think she just wants to make sure he's okay, as a mate," says Lacey. "She tries to offer support but knows Max is in turmoil without Abi, so it's difficult for her to make him see sense."
And their chat goes on for so long into the night that Stacey ends up crashing on Max's sofa – something Martin's not best pleased about!
Lacey explains that although Stacey is "really happy" with Martin, she'll always have deep feelings for Max.
"I think Stacey will always love him in some way, after everything they've been through she'll always have his back to a certain extent," she explains.
But is Stacey actually putting her ex before her husband? "Max needs Stacey more than Martin at that precise moment; it's as simple as that," says Lacey.
Lacey laughs that she didn't see the big twist coming up next week – namely that Stacey finds Max and her best pal Ruby together.
"She definitely didn't see that one coming. Stacey always kind of knew that Jay and Ruby wouldn't last, but she wouldn't have put those two together in a million years.
"But yes, I'm not sure Stacey knows how to feel, as it's one of her oldest friends with the man she once loved. It's a great twist though, I didn't see it coming (laughs)."
So, what will happen between Max and Ruby? And will Stacey be filled with jealously seeing them together?
EastEnders continues on BBC1.
Get the latest updates, reviews and unmissable series to watch and more!
Thank you for signing up to Whattowatch. You will receive a verification email shortly.
There was a problem. Please refresh the page and try again.