Eaten Alive (1977) | Blu-ray release - Freddy Krueger's Robert Englund and Real Housewives of Beverly Hills reality star Kyle Richards as you've never seen them before!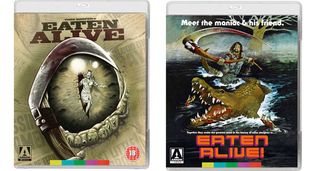 Nearly a decade before he donned Freddy Krueger s famous red and green sweater, horror icon Robert Englund delivered a supremely sleazy performance in 1977's Eaten Alive, another essay in taut Southern terror from Tobe Hooper, director of The Texas Chain Saw Massacre.
Deep in the Louisiana bayou sits the ramshackle Starlight Hotel, destination of choice for those who like to check in but not check out! Bumbling Judd, the patron of this particular establishment, may seem like a good-natured ol Southern gent but he has a mean temper on him, and a mighty large scythe to boot...
Oozing atmosphere from its every pore (the entire film was shot on a sound-stage which lends it a queasy, claustrophobic feel), Eaten Alive matches The Texas Chain Saw Massacre for sheer insanity helped in no small part by some marvellous histrionics from Chain Saw star Marilyn Burns and William Finley (Phantom of the Paradise), while future Real Housewives of Beverly Hills reality star Kyle Richards plays their young daughter. Also checking into Hooper's gorfest are Hollywood veterans Mel Ferrer and Stuart Whitman, and Carolyn Jones (aka Morticia from The Addams Family).
Following a new 2k transfer, Hooper's stage-bound nightmare is being released in HD Blu-ray and standard DVD from Arrow Video, with a host of bonus features, from 21 September. Fancy checking in!
Get the latest updates, reviews and unmissable series to watch and more!
Thank you for signing up to Whattowatch. You will receive a verification email shortly.
There was a problem. Please refresh the page and try again.