Emmerdale crash aftershock: will Ashley be Emma's next victim?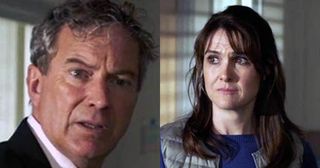 James is dead, killed by Emma in Emmerdale. And there's only one witness: Ashley. Can Emma risk him never remembering that he saw her on the bridge James fell from?
There were a lot of anxious people at the hospital in Friday night's Emmerdale, following the horrific pile-up in one of the soap's most dramatic and devastating episodes ever. But no one was more worried than Emma (Gillian Kearney).
James (Bill Ward) wasn't dead at first and she was freaking out, fearing he would wake up and tell everyone what she did.
But she couldn't bring herself to kill him in his hospital bed.
Then she realised she has another problem…
Did you see the look on her face when Ashley (John Middleton) called out to her?
She was terrified that he was going to tell her that he saw her on the footbridge, where she pushed James to his death.
It was Ashley's car that James' body smashed into and, just before Ashley lost consciousness, he saw Emma…
Laurel (Charlotte Bellamy) found Ashley at the hospital, safe if not well and sat with him as the police questioned him.
"The windscreen cracked," he told the officer. "Something fell from… Was there a bridge?"
"Yes," he was told.
"What fell?" Laurel asked.
"Someone was up there," Ashley continued.
"Can you describe them?" asked the officer.
And Ashley thought he could – but he couldn't.
Then Ashley saw Emma at the hospital…and she saw him.
But he didn't say anything. He's having flashbacks but because of his dementia his mind is too unstable to keep the memories in place long enough to say exactly what he saw.
And then James died. It was him that the villagers were mourning in those funeral shots Emmerdale teased viewers with during the week.
Emma was devastated. But, remember, she's also crazy.
What if she decides she can't risk Ashley remembering everything he saw on that footbridge and then telling someone?
We think the tension could be almost unbearable over the next few weeks and we worry that Emma will make sure Ashley has a Christmas lacking any comfort or joy – and that he doesn't see in the New Year.
Emmerdale, ITV.
Get the latest updates, reviews and unmissable series to watch and more!
Thank you for signing up to Whattowatch. You will receive a verification email shortly.
There was a problem. Please refresh the page and try again.