Emmerdale star Dominic Brunt: Paddy and Chas might split over grief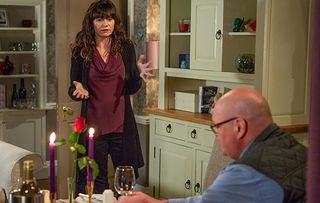 'They are coping very differently,' says Dominic
Emmerdale star Dominic Brunt has revealed that grieving parents Paddy Kirk and Chas Dingle are about to hit rock bottom.
When Chas learned her baby wouldn't survive outside of her womb, it took a long time for her to share the devastating news with Paddy. But once she did the couple came together, supporting each other throughout the pregnancy and during Grace's birth and death.
But now, as they're consumed by sorrow, their bond has virtually dissolved in the ITV soap.
"They've been hit by an enormous grief, which has left a massive hole in their lives. They are coping very differently," says Dominic, who plays Paddy.
"He's trying to be strong for Chas but she sees it as him not being supportive as he's not showing his emotions," he adds.
"Paddy's frightened of going there. He also can't bear to see Chas upset."
Examining her feelings, Chas tells Lydia about her troubled love life. When Paddy mentions something similar to Marlon, he and the chef try to rectify it.
But a surprise romantic meal doesn't do it for Chas – in fact, it enrages her. A huge row blows up, which spills out into the bar! As the locals ditch their drinks and leave, Chas has unravelled and is at the point of no return…
After ordering Paddy to get out, she destroys the place before breaking down in tears among the wreckage.
Can the couple get help to stay together? Or, is there relationship doomed after so much heartbreak?
"There is a risk that their relationship might not survive," Dominic admits, as the cracks widen. "It's such a rocky road."
Emmerdale continues on ITV.
Get the latest updates, reviews and unmissable series to watch and more!
Thank you for signing up to Whattowatch. You will receive a verification email shortly.
There was a problem. Please refresh the page and try again.