'Emmerdale' fans are at war over Meena DEATH twist!
Could Emmerdale's pesky serial killer has get away with her crimes once again?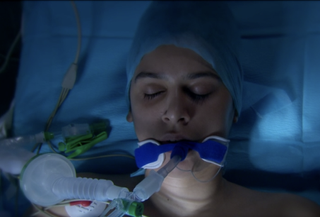 (Image credit: ITV)
Emmerdale's Meena plot took more twists and turns last night. But although it seemed at one point Meena was definitely a goner after Dr Liam pushed from the bridge, fans were shocked when she pulled through.

And while some were ecstatic, others were furious that Meena lived to kill another day – or at the very least make sure she puts Liam in the slammer!
After Meena kidnapping Billy and Dawn on their wedding day, then shooting Leyla when she tried to rescue them, it seemed Emmerdale had milked all the drama they could from plot.

However, things took another twist when a vengeful Liam caught up with the psychopathic killer and pushed her from the same bridge she had pushed his daughter Leanna from.

With Meena seemingly dead, Liam and Manpreet were left staring at her motionless body. As the police arrived, Manpreet warned Liam to insist the fall was an accident – that they fought and he was defending himself.
As Meena was raced to hospital, Liam and Manpreet kept to their stories when the police interviewed them. The police seemed satisfied with Liam's version of events, and let them go.

Meanwhile, with Meena in intensive care, it seemed certain she wouldn't pull through. But this crazy cat definitely has more than nine lives – because minutes later she woke up!
And while some fans were delighted their favourite soap psycho lived again – one even comparing her to Michael Myers, the ever-resurrecting baddie of the Halloween films – others were furious about the twist, making it clear they thought the Meena plot was now being drawn out for far too long.

"The queen of mean could survive anything," crowed one Meena supporter.

A hater, however, took a different view. "Will you just kill her?" demanded one. "Mad Meena needs to end now."
Later, fans were aghast when Liam was arrested, Meena having told the police the truth about her 'fall'. This left many convinced that Liam will end up in prison – and Meena will somehow find a way to escape justice.

But by the end of Thursday's second episode, there was another twist, as Liam was freed. Meanwhile, Meena told once she was well enough to leave hospital, she'd be kept in police custody.

So, will the Meena haters out there finally get their wish – and will the villagers get justice for Meena's terrible crimes?
Emmerdale airs weeknights at 7pm on ITV, with an extra episode at 8pm on Thursdays - see our TV Guide for full listings. You can also catch up on ITV Hubnow.
Get the What to Watch Newsletter
The latest updates, reviews and unmissable series to watch and more!
Steven is a writer, editor, and commentator with a passion for popular TV and soap operas. He spent 20 years as the editor of Inside Soap magazine, documenting every punch-up and pucker-up in the Street, the Square and the village. As a feature writer, he's covered TV crime dramas, period dramas and even some real-life star dramas. He's been seen as a talking head on more TV clip shows than he cares to remember, has a life-long passion for TV sci-fi – the older and creakier the better – and is a slight obsessive about any reality show featuring hotels.