Emmerdale fans THRILLED as unexpected scene leaves them in stitches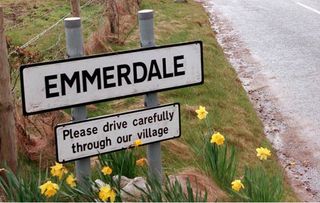 Last night saw Rodney Blackstock and Eric Pollard become Emmerdale's latest comedy duo...
Emmerdale fans found last night's trip to the Dales even more entertaining than usual after a scene between Eric and Rodney became the highlight of the evening.
While the Tuesday night episode was packed with the drama that we expect and love from Emmerdale - from Leanna and Gabby plotting trouble between Bernice and Liam, to Megan dumping scheming Frank - it seems a small scene between Eric and Rodney was the highlight for viewers across the nation.
The pair spent Monday night's episode getting merry in the Woolpack - something that didn't go down well with Faith Dingle, who Eric was supposed to be taking out for lunch.
But while drunk Eric and Rodney were certainly entertaining at the start of the week, that's nothing in comparison to watching the pair nursing their hangovers last night.
With Rodney serving in the cafe while wearing dark glasses to hide his suffering, fans thought it was hilarious when Eric then arrived for a much-needed coffee, wearing matching sunglasses.
The hungover pair then went on to argue in comedy fashion about who drank the most whisky and about which of them is better at treating a lady right, but it was the soap's nod to legendary musical duo, The Blues Brothers, that fans loved the most...
Thankfully for Eric, it looks like he might have made amends for his dating faux pas by dishing out the cash to Faith so that she could go to the salon for some pampering... but the same can't be said for other romances around the village yesterday.
Not only were Leanna and Gabby determined to make Bernice look as daft as possible in front of Liam as they settled down for some afternoon tea, but Frank also found himself single after Megan discovered his latest con.
Marlon and Jessie were also on the rocks, with the chef thinking he was about to get dumped. Thankfully, it was all a big misunderstanding and Jessie finally revealed the real reason that she is struggling to commit to Marlon is because of the memory of her late husband.
As the pair made a huge step forward and went to scatter Jessie's husband's ashes together, could this moment mark a fresh start for the pair?
Emmerdale airs weeknights at 7pm on ITV, with an extra episode at 8pm on Thursdays.
Get the latest updates, reviews and unmissable series to watch and more!
Thank you for signing up to Whattowatch. You will receive a verification email shortly.
There was a problem. Please refresh the page and try again.