Emmerdale star Mark Charnock reveals GROSS secret from Christmas wedding episode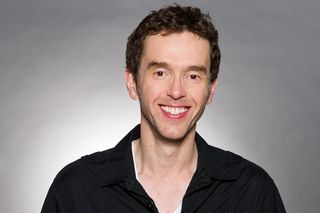 You'd think that filming a soap wedding would be all glitz and glamour, but actor Mark Charnock has revealed the reality couldn't be further from the truth!
There's romance in the Yorkshire air this Christmas as Emmerdale's Jessie Grant plans a surprise wedding for Marlon Dingle.
But while you might think that filming a winter wedding for a soap would be all snowy church scenes and beautiful dresses, actor Mark Charnock, who plays loveable Marlon, has reveals it's actually not as glamorous as you might think...
"This year is a real treat for me because I get to throw up twice on British television on Christmas Day," he jokes.
"I thought 'can we show this on Christmas Day when people are having their turkey?' But they seemed fine with it. So I really went for it."
And when quizzed, Mark even revealed the insider secret of what TV vomit is actually made of...!
"I can't believe we're having this conversation," he joked "It was fruit, a chunky fruit shake! Mmm delightful. And in the second vomiting scene I throw up in a wedding guest's hat!"
But the comedy doesn't end there... "On Christmas Eve you will see me falling out of shot, visually it is funny. But the director said you don't need a crash pad you are just going to fall back into someone's arms. And when we did it, it really was funny. You always know it is funny when the crew laugh."
You might be wondering what causes a groom to vomit - twice - on his wedding day, and surprisingly it isn't through nerves.
"Marlon's just overwhelmed by the surprise wedding and he's also very light-headed because he got so hammered the day before.
I don't know whether being sick on your wedding day is a bad sign or not but coming out of that is a really delightful wedding. It turns out to be very romantic."
With only a few select people knowing about the secret wedding, there's drama in the Dales when Marlon - who has no idea he is getting married on Christmas Day - almost rumbles the whole thing...
"Marlon doesn't know he's getting married, Jessie plans a surprise wedding with Ellis, April and Lydia also gets involved.
"Marlon goes into the Dingle house to offer to help with the Christmas dinner and Lydia is cooking Caribbean food and Marlon's confused. Lydia panics and lies that her and Sam are secretly getting married.
"Marlon's in shock and offers to cater for it, which is a lovely touch because without realising it, he's actually catering for his own wedding!"
But cooking his own wedding food isn't the only thing Marlon is unwittingly organising...
"Jessie tells Marlon to organise a stag for Sam, but he has no idea again that he is actually arranging his own stag night. But there's disaster when they get obliterated in the Woolpack, and end up in a delivery van outside the pub and get driven off into the night.
"The next day the pair wake up in the middle of nowhere and eventually Marlon is forced to tell Sam they have to get back to the village because it's his wedding day. So Sam thinks he's the one getting married and is really emotional and excited.
"Marlon is concerned about getting Sam back because he thinks he will be best man - all this springs from Lydia's white lie."
Despite the hilarity and confusion, Mark is convinced this is a Christmas in Emmerdale that fans will never forget...
"I think the viewers will like it, it's a lovely Christmas Day storyline, it's got a real lovely, heart-warming, funny, silly Christmas Day feel to it."
Emmerdale airs weeknights at 7pm on ITV, with an extra episode at 8pm on Thursdays.
Picture credits: ITV
Get the latest updates, reviews and unmissable series to watch and more!
Thank you for signing up to Whattowatch. You will receive a verification email shortly.
There was a problem. Please refresh the page and try again.