Emmerdale spoilers: 'There are SHOCKING revelations about prostitute Dawn and Harriet,' says star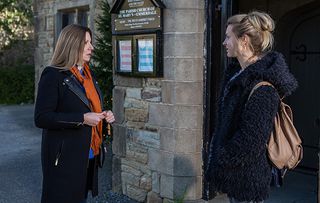 The vicar and the prostitute...
Emmerdale actress Olivia Bromley says fans should prepare for stunning revelations to come out about her prostitute character Dawn and vicar Harriet.
Drug-addled Dawn has been a sporadic presence in Emmerdale for some time, due to her connection to Ross Barton. When she last tipped up, Rhona and Pete found her at Dale View, and Rhona tried to help her – but Dawn was desperate to stand on her own two feet, and it turns out that she has since been sleeping in the community garden shed.
When Rhona and Pete stumble across her, Dawn scarpers, and Pete later finds her soliciting in a car park. But when he brings her back to the village and offers her a roof over her head, she gets the wrong idea and tries to kiss him.
Pete's fuming, and when he threatens to kick her out, Dawn gives him an ultimatum: if he doesn't let her stay, she'll tell Rhona he made a move on her.
"Dawn is a survivor," says Olivia. "The cold streets of December aren't for her, so it's a no-brainer for her to set Pete up."
Sensible Pete tells Rhona what happened, and Rhona confronts Dawn in the café. Defensive Dawn can't deal with the truth and shoves the vet as she makes off.
As Pete gives chase, Harriet spots the commotion and intervenes. But when she sets eyes on Dawn, the colour suddenly drains from her face.
"Dawn is completely floored by seeing Harriet, and Harriet hasn't expected to see Dawn either," Olivia tells us. "Harriet makes out that she doesn't know who Dawn is, but it's clear that there's some real history between them… and there are some shocking revelations to come."
What is the pair's connection?
Get the latest updates, reviews and unmissable series to watch and more!
Thank you for signing up to Whattowatch. You will receive a verification email shortly.
There was a problem. Please refresh the page and try again.