Emmerdale star Michelle Hardwick: Vanessa is STABBED… can Charity save her?!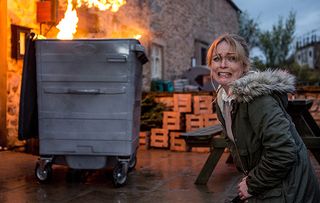 Vanessa rings Charity after being attacked... but will Charity be able to help?
So much for a happy new year in Emmerdale! Barely a week into January, Vanessa is viciously stabbed outside The Woolpack. What's more, the twisted perpetrator takes off with her son, Johnny.
The attack comes out of nowhere and happens as Vanessa and Charity are experiencing teething troubles with living together.
"It's nothing major; they're just having a few little arguments. Vanessa feels that Charity is always having a go, and she isn't good enough for her," explains Emmerdale star Michelle Hardwick, who plays Vanessa.
At the end of her tether, Vanessa storms off with Johnny in tow. "Charity follows her and they have another argument that escalates quickly," adds Michelle. "Vanessa puts Johnny in the car and drives off without making up."
Vanessa soon realises she has overreacted, and does a U-turn. But, as she approaches the pub, she sees a hooded figure outside, splashing petrol around the bins.
"She's like, 'Oh my God, what do I do?' There's a pub full of people and her girlfriend is inside," explains Michelle. "So she does what she thinks is the right thing and tackles him – and, in that instant, she gets stabbed."
As Vanessa slumps to the floor, the attacker makes off in her car, not realising that Johnny is still strapped into the back seat.
Meanwhile, flames and smoke quickly start to billow from the back of The Woolpack.
"Vanessa's in a lot of pain and doesn't realise how bad she is,' reveals Michelle. 'She manages to get her phone out and ring Charity, who comes out and finds her."
Will Vanessa survive? And if she does, will she get Johnny back?
Emmerdale continues on ITV.
Get the latest updates, reviews and unmissable series to watch and more!
Thank you for signing up to Whattowatch. You will receive a verification email shortly.
There was a problem. Please refresh the page and try again.