Emmerdale star gives fans a clue about the identity of Harriet's stalker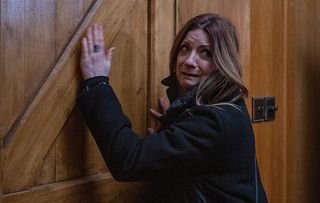 A vengeful man or woman is targeting the village vicar
Emmerdale actress Katherine Dow Blyton has shed a little light on the mystery man or woman who is stalking her character, Harriet Finch.
Harriet was recently mugged in the village, but the Vicar's belief that she was the unlucky victim of a random crime was quickly shattered when her house was later broken into, and the church was vandalised with red paint.
And next week, she'll be even more convinced that she's being deliberately targeted when she's plagued by a series of prank calls and she's then locked in the church.
Asked about who the mystery culprit could be, actress Katherine Dow Blyton told TVTimes: ''It's someone from her past, and she never thought it was who it turns out to be.
"As soon as they come face to face, it's very clear that this person wants some kind of revenge on Harriet. They want her to suffer as much as they have; they want to ruin her life."
Fans on Twitter have suggested that the mystery stalker is Harriet's lodger, Dawn Taylor. Dawn's dad, Will, a former drugs baron, was sent to prison thanks to Harriet's work in her previous job as an undercover cop, and Dawn, then a child, was subsequently put into care.
But the pair have bonded over recent months, with Harriet, who had helped to raise Dawn whilst in a relationship with Will, keen to make amends for abandoning her once Will was locked up.
Others, however, have suggested that Will, himself, is the stalker – though this seems unlikely, as Dawn has already told Harriet that her father is now dead.
Whoever it is, Katherine says that Harriet will try to build bridges with them - but admits it won't be easy.
"The terrifying thing about being stalked is the unknown," she adds. "Once Harriet knows who and what she's dealing with, she can toughen up a bit.
"She'll try to reach out to them. They may be a complete psychopath and all they want is Harriet's end, or they may be psychologically unwell, in which case there might be someone to save. Harriet will always try to look for the best in people, no matter how damaged or evil they are.
"But it's going to be difficult. She's had some tough times in the village – like watching Ashley's demise, and being dumped by Cain. This is possibly her biggest challenge yet."
Emmerdale continues on ITV.
Get the latest updates, reviews and unmissable series to watch and more!
Thank you for signing up to Whattowatch. You will receive a verification email shortly.
There was a problem. Please refresh the page and try again.