Emmerdale star Roxy Shahidi: Leyla Harding is a fool for love over fiancé Clive!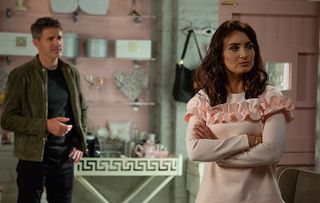 Leyla discovers she's been duped by Clive
Tom Chambers – former Casualty and Holby City star, and winner of Strictly Come Dancing back in 2008 – comes sashaying into Emmerdale next week as Leyla Harding's fiancé, Clive.
But the big arrival isn't quite what Leyla had anticipated, coming hot on the heels of a huge set-to with Clive's ex-fiancée, Suzie.
Leyla met smooth-talking Clive in Greece, where she fled to last year after falling for former flame David – who was still married to Tracy at the time.
"Leyla became lonely," explains Roxy Shahidi, who plays her, "but she didn't feel she could go home because of everything that had happened with David. Then along came Clive.
"He was charming and exciting, and he whisked her off her feet, but he was the fiancé of a lady whose wedding she was planning, so she was incredibly unprofessional.
"They got engaged very quickly, and now that she has found this new man, she wants to start a new life. For her, the only place to do that is back in the village because she has got Jacob there, and friends and family who mean a lot to her."
The wedding planner may think Clive is the best thing since stiletto heels, but he's clearly dodgier than a nine-pound note, judging by the jewellery and the cash he's asked Leyla to look after. Clive has told her it's legit, and that it's for their future, but when his ex, Suzie, turns up, she has a different tale to tell.
"It turns out that it all belongs to Suzie's family," Roxy tells us. "This should be a red flag for Leyla; it should make her realise that she can't trust Clive."
A defeated Leyla gives Suzie what's rightfully hers, and vows to consign Clive to her past. If she had a quid for every time a 'perfect' fella proved to be a flop, she'd have enough cash to keep Zak Dingle in ale for life. Meanwhile, Suzie wreaks her revenge by writing a scathing review of Take A Vow, prompting a stream of cancellations from worried clients.
Leyla has resigned herself to singledom when Clive then pitches up and begs for a chance to explain himself. Will she stick to her decision, or will she fall for his sweet talk and take him back?
Get the latest updates, reviews and unmissable series to watch and more!
Thank you for signing up to Whattowatch. You will receive a verification email shortly.
There was a problem. Please refresh the page and try again.