Emmerdale to bring in Kim Tate's son, James?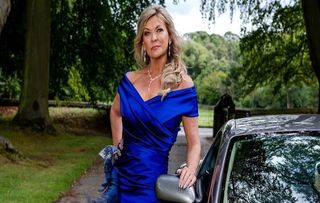 The village vixen has tasked Graham with finding her boy…
Emmerdale set the wheels in motion tonight for a return to the soap of Kim Tate's son, James.
Kim was recovering in hospital after being pushed from a balcony at Home Farm when she asked Graham to track down the lad. However, if Graham has any success, he'll have to report back to Kim via a prison visit, as she was later sent back to the slammer for breaking the terms of her early release.
James was born back in September 1996, meaning he would now be 22. Initially, there was doubt about his paternity, as Kim had been cheating on then husband Frank Tate with Dave Glover when she got pregnant. However, a DNA test later proved that Frank was the father.
He was last seen in January 1999, then aged two, when he left the village with Kim after she confessed to stepson Chris that she was responsible for Frank's death, having watched on as he suffered a fatal heart attack.
Speaking about the possibility that James may be brought back to the show, actress Claire King, who plays Kim Tate, says: "He's bound to be young, glamorous and gorgeous. They're going to bring that kind of character in to replace Ned (Porteous, who played Joe Tate) aren't they?
"He'll be a good looking, young boy. They haven't spoken for a while so that's why Kim has asked Graham to try and find James."
Adds Claire: "There were very few people or things that Kim genuinely loved – but James was one. David was another, and there was Seth and her horses, and that was about it. She had total disrespect for anybody else in the whole world; she didn't care."
If James does return, and turns out to be a handsome devil, as Claire predicts, then he will inevitably end up catching the eye of one of the village's young ladies – or men.
But one resident who won't be interested in him is Debbie Dingle – or at least that's according to actress Charley Webb.
Asked if she thinks Debbie and James could potentially become a couple, she tells us: "Nah, I think it's a bit obvious. I guess it would be interesting but I don't think Debbie would go near him, after everything that's happened with this random woman who has come to the village and destroyed her life.
"I think to go for the son would just be stupid."
Get the latest updates, reviews and unmissable series to watch and more!
Thank you for signing up to Whattowatch. You will receive a verification email shortly.
There was a problem. Please refresh the page and try again.