Emmerdale's Isabel Hodgins reveals she misses former co-star Adam Thomas 'every day'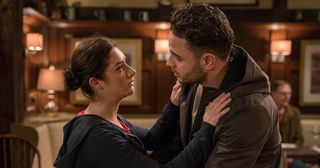 The actress is still in touch with her former co-star and on-screen husband...
Emmerdale star Isabel Hodgins, who is better known to soap fans as Victoria Barton, has revealed that she misses Adam Thomas so much that she thinks about him every time she goes to work.
The actress says that while her character might be trying to move on with her life in next week's episodes, that doesn't mean actor Adam Thomas is about to be forgotten...
"I miss Adam every single day that I walk into the Emmerdale studios," she confessed.
"We're still in touch and we have many a phone call because he's not so great with the texting, but we know what's going on in each other's lives."
And while Adam left the soap back in January this year, that doesn't mean Emmerdale is entirely off his radar. The actor has even taken to Twitter to joke about his hurt at his on-screen wife moving on in his absence!
Isabel joked: "He's not happy on social media about Vic moving on. I love it, I like that he is keeping his toe in the show via social media and obviously it shows that he cares about me, so that's nice!"
After discovering that Adam wasn't the one who killed Emma Barton after all and that he was actually covering for his mum, Moira, Victoria has been on a one-woman mission to track down her husband.
But when her detective work proved fruitless, she decided to bite the bullet and move on with her life.
Next week will see Victoria throw caution to the wind and go on a date with unsuitable Leon, a shady character that Matty and Diane both try and warn Victoria away from. But as Isabel says, their words of warning only push the pair closer together...
"Victoria knows that Leon's not 100% gentlemanly, but she just wants some fun and attention. She wants to forget about Adam and feel good about herself, so she thinks she can do that by moving on with someone else.
"Rightly or wrongly, Matty and Diane's warnings only make her more determined to see Leon. She's waited for Adam for the last 10 months and now she thinks 'I'm 24, I need to have some fun'. She wants to learn with her mistakes and she asks Leon back to her house because she needs to get away from Matty and Diane's prying eyes. "
But Isabel reveals that once the pair are alone at Victoria's house, things take a sinister turn: "They have a few drinks and are fooling around, but then Leon wants to take it further and she doesn't so the fun stops.
"She is a bit confused because she was very clear with Leon about what she wanted. Throwing him out makes her feel empowered and she thinks that while it got out of hand, she has regained control. She is torn when Robert turns up. She thinks at least I'm not on my own with Leon because he is a lot bigger than me, but also she's convinced that she is fine and is dealing with this."
But before Victoria can get herself into another dodgy date situation, actress Isabel thinks that Leon's behaviour might be enough to make her character reassess her new-found attitude to dating...
"Although she was just having fun with Leon, her actions have consequences and Victoria has now realised that acting out of character will eventually catch up with you."
So if Leon isn't the man for her, who is? "There are feelings between Victoria and Matty, but I don't think she thinks he is the guy for her. Whether she would think that if he was independent, I don't know, but definitely the fact he is related to Adam is a turn off, she needs to get away from that.
"It would really help her if she found Adam. She needs to get the closure she wants, and he would make her feel safe with his familiarity."
Emmerdale airs weeknights at 7pm on ITV, with an extra episode at 8pm on Thursdays.
Get the latest updates, reviews and unmissable series to watch and more!
Thank you for signing up to Whattowatch. You will receive a verification email shortly.
There was a problem. Please refresh the page and try again.