Emmerdale's Victoria Barton is set to 'go off the rails,' says Isabel Hodgins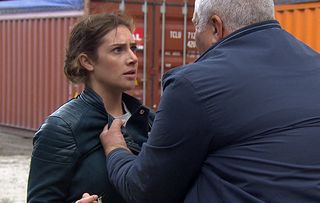 Emmerdale actress Isabel Hodgins, who plays Victoria Barton, says her character, who's been bitterly betrayed, is about to go off the rails
When Emmerdale's Victoria Barton found out her on-the-run husband Adam was not actually a murderer and had taken the rap for his guilty mum Moira, her whole world fell apart.
With Moira (Natalie J Robb) having dropped the bombshell secret a few weeks ago – after finding Victoria and Matty, who is Vic's brother-in-law, kissing – the shocks have kept coming for the chef. And now she realises virtually everyone she holds dear has been lying to her and knew the truth about Adam's innocence.
"Victoria's got no one to trust - even her own brother Robert because of his relationship with Adam's best friend Aaron, Matty and Moira," says Isabel Hodgins who plays her. "She feels really lonely in all of this, and the one person she wants to speak to is her husband Adam who is on the run having been accused of murder!"
Victoria is now on a one-woman mission to find Adam who she feels has walked out on their happy marriage for nowt.
But actress Isabel says things are set to get even worse for spinning Victoria: "She's got a tough time ahead and she's going to go off the rails."
Next week, she hires a PI to track down Adam who soon tells her that her husband is in Portugal.
But things turn hairy when Matty Barton (Ash Palmisciano) finds out from Aaron Dingle (Danny Miller) that Adam is actually in Budapest.
To stop Victoria from throwing her money away and giving it to 'PI' Glen, Matty swipes it. But his gesture backfires and lands Victoria in a sticky situation with Glen who wants his dough!
"He intimidates her and it gets sinister," reveals Isabel. "It's panic stations for Victoria. She realises Glen isn't a proper PI, and she's on her own, in the middle of nowhere with him."
Will Victoria be able to get out of Dodge City?
Catch Victoria's ordeal with Glen on Thursday 18th October on ITV from 7pm.
Get the latest updates, reviews and unmissable series to watch and more!
Thank you for signing up to Whattowatch. You will receive a verification email shortly.
There was a problem. Please refresh the page and try again.