Everything you need to know about Corrie newcomer Nicola Thorp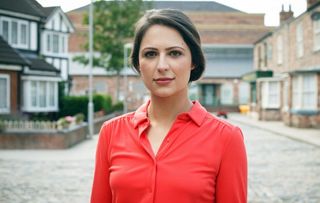 (Image credit: Mark Bruce)
She was sacked from a temp job for wearing high heels, she lives on a barge and her family make Blackpool rock. And now she's playing Pat Phelan's daughter, Nicola Rubinstein…
There was a newcomer on the cobbles last night in the shape of Seb Franklin's key worker, Nicola Rubinstein. The character is destined for plenty of drama, as she will soon discover that she is the daughter of dodgy builder, Pat Phelan. Off screen, Blackpool-born actress Nicola Thorp leads an equally colourful life. Here, she tells us about her journey to Weatherfield, her family's rock empire and her famous fight to save female office workers from the perils of stilettos…
How would you describe Nicola's character? "She's warm and caring, but fierce like her dad! There are a few moments where that side of her comes out, and that worries her - although she hasn't hit anyone on the head with a laptop yet!"
What do we know about her past? "She was born in Liverpool but moved to Manchester shortly afterwards. We don't know much more at the moment, other than her parents brought her up telling her never to live life with any regrets and to do what you think is the right thing to do."
When does she start to smell a rat about Phelan? "She has no idea that this man could be her father, but there are a few occasions when she catches him being a little bit 'off' and she thinks perhaps something's not quite right."
How will she react when she discovers he's her father? "As far as she's concerned, he is a lovely man who has given a young person hope. When he suggests he might be her father, initially she's in denial and then she's quite angry."
Is she open to a relationship with Phelan or does she resent him? "At this point, she hasn't really got anything to resent, other than she's lived a lie - but ultimately, that's not Phelan's fault. He had an affair with her mum years ago, but it's her parents who weren't honest. With both her parents being dead she'd be stupid not to want to get to know this new person in her life."
How does it feel to be in Corrie? "Mental! Two months ago, I was watching it with my family, shouting at Phelan. We have a saying in our house – "Sit down and shut up; it's on!" And then I got the call to say 'You're in, playing his daughter!'"
Are you a big fan of the show? "Yes, I spend Christmas Day with these people every year, and now I'm having lunch in the canteen with Dev and the Platts. I felt hugely starstruck when I joined, and my family are so excited. My dad dropped me off at work recently. You could see the cobbles and Nick's bistro in the background, and he was just in awe."
Can you talk us through your audition process? "This is the second time I've auditioned for Corrie. I screen tested for Kate Connor two years ago. I was so nervous. I had to throw some car keys on the bar at the Rovers, and I threw them so hard they flew off the edge of the bar! But coming back, I wasn't so nervous. I screen tested with Connor (McIntyre, who plays Phelan) and he's the opposite of Phelan, thank goodness. We have a lovely working relationship and he has become a 'set dad'."
Are there any other characters you'd like to work with? "Dev. He's just so lovely. And the Platts. And Rita. It's a privilege to be in a show like this. I know so many people who, for them, these characters are the constant in their life - you feel like you know them. It's so bizarre being here, because all I want to do is go and have a chat with Gail."
Who do you think would be a good love interest for Nicola? "Adam Barlow is a good choice, but I love him and Rosie together. We've not had any scenes together yet though. I like a challenge, and Nicola likes one too!"
What made you want to act? "When I was about 15 or 16 I saw a show at the Royal Exchange Theatre in Manchester that made me reassess everything I thought about the world – it was Lucy Bailey's Twelfth Night. I'd never seen Shakespeare before and I still don't like it, but I loved that production. Then I went to Arts Ed Drama School in London when I was 18. I played Clara Oswald's mum in Doctor Who, and I've been working for seven years doing different dramas and bit parts."
You famously hit the headlines last year when you campaigned for female office workers to be able to wear flat shoes, after you'd been sacked from a receptionist job for refusing to wear heels. Do you think that publicity helped to get you the part? "Nobody knew - I didn't want to tell them. With any new job, you worry about rocking the boat. I'm very proud of that campaign but as an actress, I was worried people wouldn't want to go near me. But Corrie has an incredible history of strong, feisty women. When I did eventually say 'Look, I've kind of done this thing…' someone in the press department said 'Oh yeah, we've googled you!' I wondered if it was okay and they were like 'No, its brilliant!' Everyone's been super supportive."
Can you explain what happened? "I'd been fired for refusing to wear heels, and I checked up on the rules behind it and was told there's a grey area where they can expect you to wear heels because women wear high heels in regular life. I said that it's a sexualised element of dress which I don't think is necessary in an office, and also in terms of health and safety, they kill your feet. They said 'No, that's the law; they can do that', so I said 'I'll try and change the law then!' So I set up a petition, shared it on Facebook and then it spiralled out of control. I definitely wasn't' expecting that kind of reaction!"
Have you always been the kind of person to fight for things? "Yes, I've been brought up to fight for my own beliefs. This might seem like a really small issue and it is - it's about shoes. But on the grander scale, it's about how discrimination law works in this country. At the moment, you have to pay £1200 if you want to take a case through tribunal."
Did you take your own case to tribunal? "No, because if I'd taken it to tribunal, every woman in the country would've had to do that - so what I tried to do was change the law so they wouldn't have to shell out £1200. What person on a zero hours contract can afford that? I certainly couldn't."
What is Nicola's style like - does she wear heels? "I said to the costume department: 'Is it okay if she doesn't wear heels for a while?' They said 'Yeah, it's really difficult to walk in them on the cobbles.' So at the moment, I've only worn flats. But I, personally, wear high heels for different occasions, and I wouldn't have a problem with my character doing that. It's very different playing a soap character than it is being a receptionist at an office."
Corrie is famously about working class people – are you working class? "My parents run a rock factory in Blackpool. If you cut us open, we'd have Blackpool rock running through us. My dad moved to Blackpool to set up the factory, and we make lollipops and rocks. The company is called Stanton and Novelty Confectioners. My dad will be chuffed if you print that!"
Where are you currently living? "I've just bought a narrow boat in London. I've currently left her in West London so I need to move her up to Manchester. I've been obsessed with boats and canals for years. At the moment, I have to move every two weeks, and it's so much fun. My favourite place to dock is Shoreditch and around Hackney - that's where I've lived for the past two years."
What's the worst thing about it? "Having to move her on my own. I did it in a storm recently, and fell over three times. And emptying the toilet."
Does she have a name? "No, I need to give her one."
How about Rita? "Good idea!"
Coronation Street, ITV, Mondays, Wednesdays and Fridays
Get the What to Watch Newsletter
The latest updates, reviews and unmissable series to watch and more!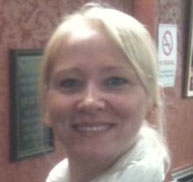 Alison Slade has over 20 years of experience as a TV journalist and has spent the vast majority of that time as Soap Editor of TV Times magazine.
She is passionate about the ability of soaps to change the world by presenting important, issue-based stories about real people in a relatable way.
There are few soap actors that she hasn't interviewed over the years, and her expertise in the genre means she has been called upon as a judge numerous times for The British Soap Awards and the BAFTA TV Awards.
When she is not writing about soaps, watching soaps, or interviewing people who are in soaps, she loves going to the theatre, taking a long walk or pottering about at home, obsessing over Farrow and Ball paint.