Exclusive! Charles Venn having 'fantastic' time on Strictly and Casualty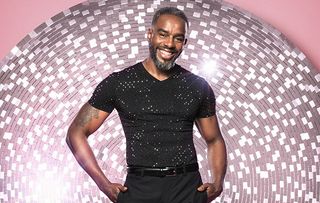 (Image credit: BBC)
Exclusive interview with star Charles Venn about this Saturday's Casualty and Strictly Come Dancing extravaganzas!
When Casualty star Charles Venn signed up for this year's Strictly Come Dancing he anticipated it would be hard work.
It's no secret Strictly's not for the fainthearted. Since being paired up with professional dancer Karen Clifton, however, Charles has impressed the judges – and become a particular favourite of Shirley Ballas! Not bad, especially when you consider Charles is still filming BBC1 medical drama Casualty, which is based in Cardiff and quite some distance from Strictly's Elstree Studio in London.
This Saturday will be particularly demanding for Charles. On Strictly, movie week promises to put him through his paces, while on Casualty his character nurse Jacob Masters is put through the ringer when he comes face-to-face with his mother after years of estrangement.
Taking a short break from his gruelling dance training, multitalented Charles Venn, 45, tells us more about his Saturday night double-whammy…
How do you feel about taking over our TVs on Saturday night?
Charles Venn: "Being able to work on the UK's most popular medical drama and Strictly, what more could I ask for? It's fantastic and I'm very lucky."
Let's talk about Casualty first. How was it working with Ellen Thomas, who plays Jacob's mum Omo?
CV: "Ellen is fantastic as Omo. I'm really pleased she's playing Jacob's mother. She's dynamic, capricious and absorbing to watch. A lot of it was very organic. Ellen was the soul embedded in the character of Omo, and she gave me so much to bounce off and play. On the set of Casualty everyone was talking about her performance. It was intense."
Will this encounter explain more about Jacob's upbringing and past?
"Yes, it's a lovely journey for Jacob to see his mother after such a long time. We get to see what's really going on with Omo and why Jacob has never mentioned her. It's an episode I'm very proud of. I'm making people aware of it on my social media accounts!"
Between Strictly and Casualty you may start trending!
"[Laughter] Yes, there's something prophetic about it being movie week on Strictly and such a powerful episode for Jacob on Casualty. I embrace it all with a smile and am always thankful."
How has dance training been going this week?
"It's incredibly tough and challenging. I was saying to Karen, I've to unlearn what I know in order to execute ballroom steps. I've also lost a lot of weight. I'm lean, trim and have more definition in my abs than I had in my twenties!"
Something that's not gone unnoticed by Strictly judge, Shirley…
"Shirley is not one to mince her words! Overall I've been really pleased with the comments from the judges. And if Shirley thinks I am somewhat easy on the eye, I'll take that, most definitely!"
Did you get any advice from showbiz pals who've taken part in Strictly?
"I spoke to Holby City's Chizzy Akudolu and she told me that I was going to have so much fun because it's an amazing show. I'm not going to lie, I didn't know what to expect when I signed up to do Strictly, other than it being very hard. Yet the level of enjoyment I've derived from it is difficult to quantify. It's a great experience. Last week I even got to do my jazz splits!"
Strictly Come Dancing and Casualty continue this weekend.
Get the latest updates, reviews and unmissable series to watch and more!
Thank you for signing up to Whattowatch. You will receive a verification email shortly.
There was a problem. Please refresh the page and try again.