Expect epic STUNTS in EastEnders during Mel and Ray's New Year's wedding day!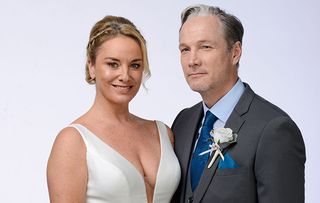 (Image credit: BBC / Kieron McCarron)
'Action wise, it's explosive,' promises Tamzin Outhwaite
The tension is brewing in the run up to Mel Owen and Ray Kelly's New Year's Day wedding in EastEnders.
With Mel planning revenge on Ray – who she's discovered is a serial bigamist – and with undercover cop Ray not adverse to violence, it was always going to get messy. And it does. With bells on, confirmed actors Tamzin Outhwaite and Sean Mahon who play the engaged couple!
"Action wise, it's explosive," said Tamzin. "I'm loving doing lots of fun stuff."
The actors worked flat-out late into the night to create the exciting action-packed scenes.
Said Sean: "Stunts are the best thing. That's the great thing about Tamzin, we're very similar that way – the more physical, the better the acting is.
"It becomes less about the words, the emotion comes from the physicality. So the more running around, the more real it is. Last night [during filming], we kept asking to do it again!
"It's like being a kid and playing cowboys and Indians. How often do you get to do that?"
Having played Sergeant Jo McDonagh in BBC's army drama Red Cap in 2001 and ITV's The Fixer in 2008, Tamzin's no stranger to action work on set.
"All that training I did after leaving EastEnders is all coming back," revealed the actress. "In The Fixer, I used to do all my own stunts, and in other dramas. In EastEnders you can't do that kind of thing on a weekly basis as there's just too much to shoot so I feel quite lucky [to get the chance]."
As to what Mel and Ray get up to when they go head-to-head remains to be seen but the scenes required a special wedding dress for the bride-to-be.
"Mel's wedding dress has pockets. I don't know how I would have been able to do the scenes on night shoots for the last five nights without them because I've got props and all sorts," laughed Tamzin. "You'll know about all those later!"
The good news is, their story is set to continue into January: "It's definitely not a closed chapter after the wedding," confirmed Sean. "In fact, the door is just opening up."
Watch the explosive EastEnders' episode on New Year's Day on BBC1 from 8pm.
Get the latest updates, reviews and unmissable series to watch and more!
Thank you for signing up to Whattowatch. You will receive a verification email shortly.
There was a problem. Please refresh the page and try again.