Eye in the Sky | Film review - Gripping thriller puts drone warfare to the ethical test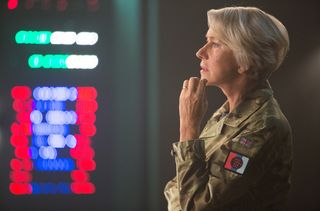 (Image credit: Keith Bernstein)
The ethics of drone warfare come under forensic scrutiny in the riveting thriller Eye in the Sky.
Unfolding in near real time, the film focuses on a covert operation to knock out a terrorist cell in Nairobi belonging to Somali extremist group al-Shabaab, a mission that is being conducted in four different locations and brings together a disparate set of players with their own agendas and scruples.
On the ground in Nairobi, Barkhad Abdi's undercover field agent spies on the terrorists' safe house with the aid of a pair of very nifty short-range video bugs, while over in Nevada Aaron Paul's US air force officer pilots the Reaper drone that is flying overhead providing aerial surveillance.
Helen Mirren's colonel is commanding the operation from Surrey but must defer to a group of politicians in Whitehall when the mission's parameters change. Initially, the aim was to capture the terrorists; now the objective is to assassinate them.
Adding the presence of a pair of would-be suicide bombers inside the house and a cute little girl selling bread outside, Eye in the Spy stacks the deck in its moral debate; the interest is in seeing how screenwriter Guy Hibbert and director Gavin Hood (Tsotsi, X-Men Origins: Wolverine and Ender's Game) skilfully shuffle and play their cards.
The politicians dither and try to pass the buck; Mirren's steely colonel puts pressure on a junior colleague to play down the estimates of collateral damage; and Paul's drone pilot agonises.
No one on the Western side is demonised, yet there is a streak of black comedy that now and then becomes visible, as when Iain Glen's UK foreign secretary is struck down by food poisoning in Singapore or the US secretary of state gets interrupted during a game of ping-pong in Beijing. For the most part, however, the mood is deadly serious.
The perils of Abdi's agent in Nairobi supply physical suspense, but the other characters' ethical dilemmas prove equally gripping. In his last screen role, Alan Rickman adds a wry sardonic note as the high-ranking British army officer advising the vacillating politicians in Whitehall and delivers the line that expresses the military point of view with forceful authority: "never tell a soldier he does not know the cost of war." The film's debate, however, is one that outruns the credits. The final word belongs to us.
Certificate 15. Runtime 102 mins. Director Gavin Hood
http://www.youtube.com/watch?v=zoBk3e9fFPU
Get the latest updates, reviews and unmissable series to watch and more!
Thank you for signing up to Whattowatch. You will receive a verification email shortly.
There was a problem. Please refresh the page and try again.