Fiona Bruce: People sometimes 'storm off' Antiques Roadshow!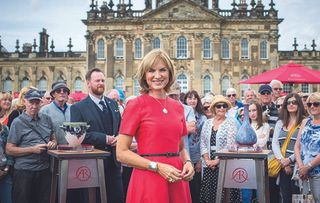 (Image credit: BBC)
Fiona Bruce reveals people sometimes get angry on the Antiques Roadshow when they're told their stuff is not worth much as the series returns on Sunday night
When The Antiques Roadshow, which is now fronted by Fiona Bruce, first aired in 1977, no one at the BBC ever dreamed that a programme in which people brought family heirlooms to be valued by experts would still be on air 40 years later.
Yet over the last four decades the show has become a quintessentially British institution, synonymous with stately homes, earnest antiques experts and the occasional surprise valuation as a hidden treasure is unearthed...
Originally filmed in unglamorous town halls and leisure centres up and down Britain, the Antiques Roadshow has gradually moved up in the world and the 40th anniversary special will come from Castle Howard in Yorkshire. But while the backdrops have changed over the years, many other aspects have remained as they were during the 1977 pilot.
"The show is essentially the same as it has been for 40 years and it's still hugely popular, which is amazing," says Fiona Bruce, who has hosted the series for ten years. "I think people love it because we all hope that we could have something gathering dust on the mantelpiece or in the attic that either turns out to be very valuable, or has an amazing story. I can't believe these things are still turning up after 40 years, but we see something amazing almost every week!"
Here Antiques Roadshow host Fiona Bruce tells TV Times more
TV Times: People are very good at keeping calm when their items are valued, has anyone ever got angry after finding out their antique wasn't worth as much as they'd hoped?
Fiona Bruce: "Oh yes! We've had a few people storm off. I remember a chap who had this huge painting, at least 6ft x 4ft, which they had manfully lugged all the way to the roadshow. It turned out to be worth not very much and they were not particularly chuffed. They just dumped it by this hedge and stalked off!"
TVT: How will you be marking the 40th anniversary on screen?
FB: "We invited back the first presenter of the show, Bruce Parker, and I spoke to him about what the Antiques Roadshow was like when it first started. It was fascinating to meet him, because they had no idea if any members of the public would turn up! But lots of people did and they realised they had a hit on their hands. I also interviewed ceramic specialist David Battie, who is the only expert working on the show now to have been there on the very first one. He's one of the great people on the AR and I count myself lucky to know him."
TVT: What is your earliest memory of the Antiques Roadshow?
FB: "I still remember watching Antiques Roadshow as a child with my parents on a Sunday night, during the 1970s. Then I suppose when I was at university I dipped out for a while, as Sunday was just another night out! I gradually came back to it and then I was asked to present it which I had no idea was coming! I was absolutely thrilled. It's not often that you get asked to work on a programme you've watched for so long and genuinely watch at home."
TVT: What has been your personal highlight from working on the show?
FB: "I feel incredibly lucky to have spent the last ten years working on the Antiques Roadshow. I love doing it and I've had so many highlights from over the years. My personal favourite would probably have to be when a man of the cloth turned up with a painting, which he thought might be a Van Dyck. I looked at it – and I was making a programme about Van Dyck at the time – and I thought it had the look of the genuine article. We had it examined and my hunch turned out to be right. It has been proven to be the case and it is now being exhibited as a Van Dyck. I can't imagine that will ever happen to me again in my lifetime and it's definitely a highlight for me."
TVT: Have you always been interested in antiques?
FB: "Yes I was! I'm interested in history and stories, but for sure since doing the show my interest has increased exponentially. I now am more interested in buying antiques than anything else. I suppose it's changed my life, my interests and my buying habits, because I'm not interested in buying new things anymore. I want to go to auctions and junk shops and that's where I spend my time. I liked it before but now I like it even more."
TVT: We hear there's a very special antique appearing in this series, the most valuable ever seen on the Antiques Roadshow!
"Yes! I can't say too much about it, but it's one of the most significant items of jewellery valued on the roadshow and it will knock your socks off. We had no idea it was coming and its valuation was truly staggering. As luck would have it, I was away filming something else at the time, but word got round very fast!"
The Antiques Roadshow returns to BBC1 on Sunday 24 September
Feature writer for TV Times, What's On TV, TV & Satellite Week and whattowatch.com
Sean has been writing about all things telly for over 10 years and in that time he's been lucky enough to interview stars like Ian McKellen, Tom Hardy and Kate Winslet. His favourite shows are The Great British Bake-Off, People Just Do Nothing and Succession and in his spare time he enjoys drinking tea, doing crosswords and watching football.
Get the latest updates, reviews and unmissable series to watch and more!
Thank you for signing up to Whattowatch. You will receive a verification email shortly.
There was a problem. Please refresh the page and try again.