Former Corrie star Andrew Lancel has found his singing voice in The Sound of Music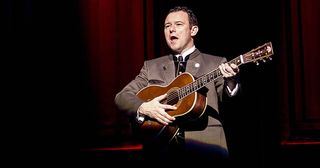 Andrew Lancel is enjoying his role in The Sound of Music but he tells Soaplife that Corrie "was the happiest working experience I've ever had."
He has been in The Bill and Coronation Street. Now Andrew Lancel has a starring role in The Sound of Music and he tells Soaplife all about it.
So you're playing Captain Von Trapp in a UK tour of The Sound of Music? "Yes – it's a big, massive, wonderful production of a big, massive, wonderful film. The Captain is a different role for me because I don't play many light characters. I'm loving it, though."
How's the singing going? "Well, I hope. I've always sung, although this is my first big musical role."
Do you like touring? "I do. Touring keeps a show fresh because when you open in a new town, it's like having a press night every week."
Don't you miss home? "Yes, but I'm always back home from Saturday night until Tuesday morning. During the summer holidays, I have my wife and my eight-year-old son on tour with me."
Which character do you get recognised for the most: Corrie baddie Frank Foster or The Bill's DI Neil Manson? "It's about 50/50. It's four years since Frank was killed off and six years since The Bill finished. I always say Corrie was the happiest working experience I've ever had."
Why? "It was a tough role and a dark storyline, but it couldn't be bettered in terms of location and the people I was working with."
Click here for more details on The Sound of Music tour
Get the latest updates, reviews and unmissable series to watch and more!
Thank you for signing up to Whattowatch. You will receive a verification email shortly.
There was a problem. Please refresh the page and try again.