Did you ever spot this Friends blooper with Matt LeBlanc and Jennifer Aniston?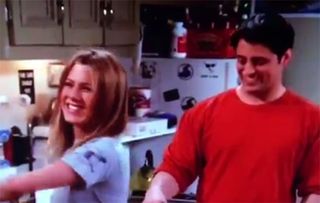 Oops! Fans of the comedy have just spied Joey mouthing Rachel's lines...
Ahhh, Friends. It's the one show we can watch over and over again and it still makes us crease in hysterics.  But just when we thought we'd seen all the out-takes, bloopers and extra bits... another gem comes out!
This time it's in 'The One Where Ross Dates A Student' but doesn't involve Ross or the student. It's when Rachel is at Joey's playing the oh-so-satisfying game of throwing wet paper towels at a cupboard.
But while the pair seem engrossed in their new game, eagle-eyed fans have spied Matt LeBlanc actually mouths Jennifer Aniston's line: 'I love it at Joey's'.
Check it out...
Fans of the show commented with the likes of "Wow, I've never noticed that before" and  one fan even added another blooper.
Keep your eyes on Monica...
Er, Courtney Cox got a new face for a moment there! Did you see it?
It's been 14 years since Friends first aired in the UK, but still, we're glad to day the sit-com continues to be as popular as ever.
Recently the re-runs have appeared on Netflix allowing us to binge on the show like never before.
But while there's always talk that the six-some may get back together for a film or reunion show, Matt LeBlanc- who now hosts BBC Two's Top Gear alongside Chris Harris and Rory Reid - has played down the idea, largely for age reasons.
"I understand that people really want to see that reunion. But that show was about a finite period in these six characters lives, between 20 and 30," he explained. "I don't think anybody wants to see Joey at his colonoscopy!"
Oh, no we don't Matt.
David Crane, who co-created the show with TV producer Marta Kauffman, also said he cannot see it happening.
He told the Press Association: "We did it, and it's done, we put a bow on Friends and you know, if you want to watch Friends now, it's still on television."
He added: "Right now, it's preserved exactly as it should be.
"You don't want a bunch of people in their 50s in the coffee house!"
At least we have these amazing bloopers to make sure the Friends story lives on.
Get the latest updates, reviews and unmissable series to watch and more!
Thank you for signing up to Whattowatch. You will receive a verification email shortly.
There was a problem. Please refresh the page and try again.