Former Friends star David Schwimmer helps Blackpool Police with their enquiries!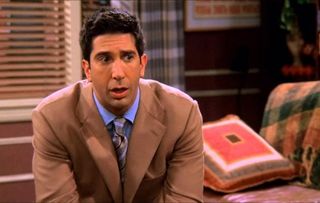 The sitcom star unexpectedly found himself caught in a UK police investigation after a Ross Geller lookie-likie thief was caught on CCTV!
David Schwimmer, who played Ross Geller in the hit sitcom Friends, has unexpectedly found himself helping Blackpool Police with their enquiries, after a Ross Geller look-a-like thief was caught on CCTV fleeing a restaurant with a carton of cans.
Social media users immediately commented the thief looked strikingly similar to David's character Ross.
But since David is based in New York and has been busy filming episodes of the recently revived sitcom, Will & Grace, he clearly couldn't be the thief!
But just to clear-up any confusion, David took to social media himself with a spoof video that shows him with a cartoon of beer in his arms at a New York convenience store with the caption: "Officers, I swear it wasn't me. As you can see, I was in New York."
David added: "To the hardworking Blackpool Police, good luck with the investigation." and added the hashtag #itwasntme to the post.
As news of their investigation went viral, Blackpool Police showed they had a sense of humour by referencing the lyrics of the Friends theme song, I'll Be There For You and replied via Twitter: "Thanks for being there for us" and added the hashtag #appreciatethesupport.
They added on social media: "Thank you to everyone for your speedy responses. We have investigated this matter thoroughly and have confirmed that David Schwimmer was in America on this date. We're so sorry it has to be this way."
Get the latest updates, reviews and unmissable series to watch and more!
Thank you for signing up to Whattowatch. You will receive a verification email shortly.
There was a problem. Please refresh the page and try again.