Gavin and Stacey's Baby Neil is 10 years old and fans can't believe it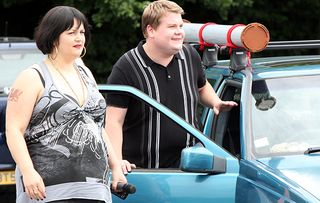 (Image credit: REX/Shutterstock)
His proud mum has shared a photo of him now
Remember when Smithy and Nessa welcomed little Neil into the world on Gavin and Stacey?
Well, get ready to feel old because the baby who played him in the hit sitcom has just had his 10th birthday.
BBC Three started the excitement when they shared some images from the show - including snaps of James Corden and Ruth Jones who played Neil's parents - next to the caption: "FYI baby Neil from Gavin and Stacey is now a 10-year-old."
Clearly just as shocked as the rest of us that Nessa gave birth on the programme more than a decade ago, Late Late Show host James then retweeted the images and commented: "Holy s**t".
Baby Neil was originally played by three different babies - Rocco Romanello, Cari Kiernan, and Lewis Merchant.
And Lewis' mum Emily Merchant thrilled fans when she replied to BBC Three to let them know how her little boy is getting on now.
Next a snap of her son in his Swansea tracksuit, the proud mother added the message: "This is Xmas Special baby Neil! 10 last Sunday!"
Obviously, it didn't take Gavin and Stacey fans long to comment on the photo and many couldn't believe how much Lewis has grown up.
"I won't lie to you! I'm a bit shocked," one follower wrote.
While another commented: "WOW how time flies, never would have thought that was 10 years ago".
And a third mused: "I wonder how much like Smithy he is lol."
The BBC show - which ran between 2007 - 2010 - recently celebrated it's tenth anniversary, which led James to contemplate the possibility of reuniting with his co-stars.
"The other day it was the tenth anniversary," he said on Capital's Breakfast Show.
"Ten years since the show went out, which I found myself oddly, I got quite emotional about it actually. I don't know why."
On whether there's scope for another series, he added: "I don't know, actually, is the truth. I don't know.
"Ruth and I, we talk about it, not in a way of 'Oh shall we do it?', we talk more about the characters and I wonder what they're doing now."
Meanwhile, Ruth also seems to be feeling nostalgic as she appeared on Lorraine last week and chatted about what the characters would be up to now if the show was still on.
"James and I were talking about this the other day," she said. "I was saying that baby Neil, who is now probably about 11, Nessa's training him down the slots.
"She's training him in the art of the dodgy grabber machine and all that kinda thing, and how to weight the two pences."
We'd love to see that! Did someone say a reunion?
Thank you for signing up to Whattowatch. You will receive a verification email shortly.
There was a problem. Please refresh the page and try again.