Gogglebox stars get passionate about political views – 'Make your mind up!'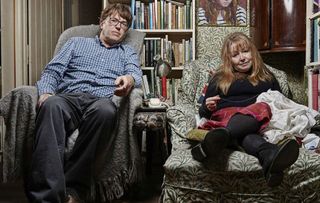 (Image credit: Channel 4)
Gogglebox returned to screens last night.
And while we're all used to seeing our favourite Goggleboxers joking about the week's comedies, shedding a few tears at daily news or on the edge of their seats while watching weeknight dramas, the newest instalment of the Channel 4 hit saw the cast weighing in on politics.
While watching the week's clips of the news surrounding the UK's political climate and upcoming election, the Gogglebox cast ended up getting a bit passionate about MEP Nigel Farage.
The show's stars were watching the Brexit Party launch their campaign for December's General Election and many were unimpressed with the politician.
As Nigel revealed his party's position in the upcoming election and the Brexit process, married couple expressed a passionate response at the politician.
"Make your mind up Nigel," Mary exclaimed.
While husband Giles added, "I know what might have swung it, a gong, Boris might have promised him a place in the Lords, don't you think?"
Mary then chimed back in saying, "Brexit now has become like a maze, you going round and you keep thinking you're going to make some progress and you're about to escape and find the answer."
The programme then tuned back into the Siddiqii family, where Baasit Siddiqui said, "I love how Brexit always give Umar indigestion…", as Umar joked, "Brexit just gives me the s****".
Viewers of the show took to Twitter to agree with the Gogglebox stars, commending the cast's reaction to the news they had been watching.
Responding to the Siddiqui family, one Twitter user wrote, 'Brexit gives me the s****." Know how you feel, mate. #gogglebox'.
'Love Sophie & Pete in #Blackpool,' wrote another, '"#NigelFarage is moaning about #Labour breaking their promises & he's broken his for #BrexitParty to stand in all seats" He's got a point#Gogglebox'.
'"Floating around the country, like a turd" is possibly the best description of @Nigel_Farage I've heard this year. #Gogglebox,' wrote another.
'Welsh woman truest thing said Nigel Farage he's got one of those faces you want to slap! Well said #Gogglebox,' added another viewer.
Others commented, 'Yes #GoggleBox Mary & Giles', '"That's why [Nigel Farage] is floating all over the country, like a turd." #Gogglebox' and 'Watching #Gogglebox and all that comes to mind is; What's the porpoise of #NigelFarage?'.
Get the latest updates, reviews and unmissable series to watch and more!
Thank you for signing up to Whattowatch. You will receive a verification email shortly.
There was a problem. Please refresh the page and try again.