The Great British Bake Off: Classic kitchen CATASTROPHES!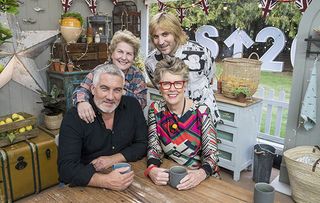 (Image credit: Mark Bourdillon / Love Productions)
To celebrate the return of Channel 4's The Great British Bake Off, we look back at some classic moments including the infamous "Baked Alaska-gate"!
There's not long to go until the heat is on the kitchen again, as Channel 4 have confirmed The Great British Bake Off will return on Tuesday 27th August. Hooray!
So while we wait for further news about this year's contestants - and who might follow in the footsteps of last year's winner, engineering researcher Rahul Mandal - we've been checking out some of our favourite clips of previous kitchen drama...
1. Baked Alaska-gate
https://www.youtube.com/watch?v=0K-4SNI706Y
Will anything ever top the infamous Baked Alaska-gate of 2014 (aka #BinGate) when contestant Iain Watters angrily threw his melted Baked Alaska in the bin after it was removed from the freezer by rival contestant Diana Beard. Was it sabotage? It became a national debate and the story was covered by BBC One's posh 'ol Newsnight!
2. Broken heart biscuits
https://www.youtube.com/watch?v=2udemNpOnSM
The bakers finish decorating their biscuits. But one baker finds herself in trouble. Can she mend her broken heart before the time is up?
3. Iced bun disaster
https://www.youtube.com/watch?v=BfYUnUmxGEU
Mary-Anne has a spot of bother with her jam toppings and time is running out…
4. Chocolate pudding on the floor!
https://www.youtube.com/watch?v=2hC0jnure5s
During the final stages of preparation for the sponge pudding challenge, it all gets a bit too much for one baker...
5. Kate's kitchen Clanger!
https://www.youtube.com/watch?v=oR_JUhCsB9I
Things go horribly wrong for Kate and her Bedfordshire Clangers... and she drops her bake. Whoops!
6. John's cooking injury
https://www.youtube.com/watch?v=TxJXwgoazNI
John cuts himself whilst preparing his strudel dough, but luckily there's a doctor in the tent. Phew!
Presenters Noel Fielding and Sandi Toksvig are back on board for Series 10 of The Great British Bake Off, along with judges Paul Hollywood and Prue Leith.
The series originally began on BBC Two in 2010 with Paul Hollywood and Mary Berry as judges, and Sue Perkins and Mel Giedroyc presenting.
It moved to BBC One in 2014 before making a much-publicised move to Channel 4 in 2016.
https://www.youtube.com/watch?v=xzSTqVUWEzU
The Great British Bake Off Returns Tuesday 27th August on Channel 4
Get the latest updates, reviews and unmissable series to watch and more!
Thank you for signing up to Whattowatch. You will receive a verification email shortly.
There was a problem. Please refresh the page and try again.