Great British Bake Off 2018 stars: 'We're happier this year'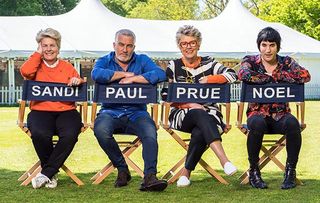 (Image credit: Mark Bourdillon / Love Productio)
Paul and Prue admit it's nicer without the controversy...
Bake Off's back and the nation can't wait for another batch of glorious showstoppers and Hollywood handshakes. It's a far cry from last year's controversial return, when critics feared the show wouldn't survive the move from the BBC4. The judges admit there was a more jovial atmosphere in the tent this time round for The Great British Bake Off 2018.
"I think C4 must feel vindicated," says judge Prue Leith. "I had no idea there was this big debate going on last year until I arrived on set – I was totally unstressed and then I heard people were talking about these new guys who were likely to completely mess up a national treasure, so we were all quite tense."
Paul Hollywood, the only member of the original presenting team to stick with the show, predicted the show's success in its new home. "Format is king and for me the Bake Off has always been about the bakers," he explains.
"That's where I feel vindicated – it's never been about the four of us, we're just the framework but the stars are all in the picture. That's always been true and people realised when they watched it last year. I've just gone from the kids thinking I'm married to Mary to thinking I'm married to Prue!"
With the ratings proving the gamble paid off, everyone could relax a little and have a bit more fun. Host Sandi Toksvig, shares the sense of relief. "There were a lot fewer visits from executives this year!" she laughs.
"The main thing is you just don't want to let anybody down, people love the show and you don't want to break it, so it's lovely that not only did we not break it but we've cherished it. We feel happier this year."
The Great British Bake Off 2018 kicks off on Tuesday 28th August on C4 at 8pm.
Get the latest updates, reviews and unmissable series to watch and more!
Thank you for signing up to Whattowatch. You will receive a verification email shortly.
There was a problem. Please refresh the page and try again.