Rick Astley to make cameo appearance in Hollyoaks - making Kim Butterfield's day!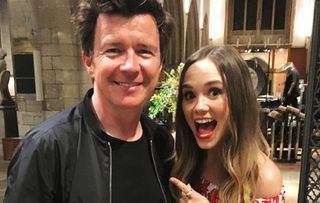 Daisy Wood-Davis, who plays Kim, was really keen to get Rick Astley on the show
Legendary singer Rick Astley has been on the Hollyoaks set filming a special guest appearance which ties in with a storyline involving Kim Butterfield.
The Never Gonna Give You Up singer beamed away merrily with Daisy Wood-Davis, who plays Kim in the C4 soap, in a snap taken last Thursday when Daisy was invited to attend the star's album launch in London.
Hollyoaks fans will know that poor Kim was locked in a basement by evil murderer Ryan Knight for three months with just a Rick Astley poster to keep her company.
Daisy previously told Inside Soap that she'd been trying to get Rick on the show, saying: "I've tweeted him several times, but he hasn't replied.
"I was hoping he'd make a cameo in the show - it would be great to have him as a figment of Kim's imagination."
Daisy has got her wish! Hollyoaks hasn't revealed yet how exactly Rick will fit into the storyline, although we do know his scenes will be shown later this year.
It won't be the first time Rick has done a spot of acting this year. He played the shapeshifting T-1000 cyborg in The Keith & Paddy Picture Show when the pair spoofed Terminator 2.
Hollyoaks continues on C4.
Get the latest updates, reviews and unmissable series to watch and more!
Thank you for signing up to Whattowatch. You will receive a verification email shortly.
There was a problem. Please refresh the page and try again.