Hollyoaks marks World Mental Health Day with episode dedicated to Cleo's bulimia battle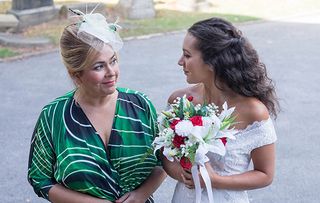 As Cleo McQueen gets ready to tie the knot, her ongoing battle with bulimia comes under the spotlight in a special episode
Cleo McQueen's battle with bulimia is brought under the spotlight in a special episode of Hollyoaks which first airs tonight, (Tuesday Oct 9), on E4 and which ties in with World Mental Health Day.
The character's  ongoing struggle with the illness, and the repercussions on her health, are brought into focus as Cleo, (played by Nadine Mulkerrins), gets ready to tie the knot with her fiance Joel Dexter.
Actress Nadine has worked closely with the bulimia charity BEAT throughout the storyline and during tonight's episode viewers will see Cleo recall every detail of her wedding day from the second she wakes, to walking down the aisle, to her psychiatrist Farrah Maalik.
However, a concerned Farrah interrupts her story, and it is revealed Cleo has only been telling lies, and as she sits in a hospital bed, she eventually admits the true sequence of events.
Setting her alarm for 4:00am, in reality Cleo ran for hours despite her blisters, she used whitener to cover her rotting teeth, and makeup to cover her bruises. She felt terrified and disgusted by a bacon butty offered to her by Nana McQueen, but couldn't stop herself eating the whole thing. She ran upstairs to make herself sick, admitting that purging gives her a sense of relief, before the guilt and shame takes over.
As she had lost so much weight her wedding dress no longer fitted and she had to improvise by pinning it back, terrified that someone might notice. Barely managing to stand she held tightly onto her auntie Myra as she walked down the aisle. Her heart started pounding, she felt sick and sweaty, only just managing to keep it together for half the vows.
Beats Head of Communication, Rebecca Field said "On average it takes nearly three years for someone to realise they have an eating disorder and visit a GP. That is why shows like Hollyoaks can make a difference by raising awareness about these serious mental illnesses so people know to get help, and we are delighted to have been working with the show.
"The sooner someone gets treatment for an eating disorder, the better their chances of recovery. Anyone worried about their own or someone else's health can contact Beat's Helpline, 365 days a year, via phone, email, anonymous one-to-one webchat or social media messaging"
Cleo's Bulimia: Real Life Stories will be available to watch on Hollyoaks Official You Tube from October 10
Hollyoaks is shown weekdays on C4 at 6.30pm with the next episode following on E4
Get the latest updates, reviews and unmissable series to watch and more!
Thank you for signing up to Whattowatch. You will receive a verification email shortly.
There was a problem. Please refresh the page and try again.