Home Fires' Claire Rushbrook reveals: 'It will be terrifying if Bob finds out Pat's in love!'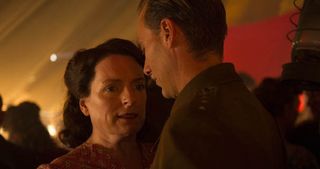 (Image credit: AIMEE SPINKS)
Home Fires star Claire Rushbrook reveals timid housewife, Pat Simms, plays a dangerous game when her abusive husband, Bob, returns home injured from the war.
Pat's not ready to give up secret love interest, Captain Marek Novotny... but what will it cost her?
Pat had a gripping yet harrowing domestic abuse storyline last year. What responses did you get to it?
" The response was very warm and compassionate. People were quick to tell me their own stories and experiences, more than you might ordinarily tell a stranger, and I was very moved people understood, identified with, and responded positively to that difficult storyline. There were also a lot of good-natured calls of 'Leave him!', 'Kill him!', and 'We'll get him for you Pat!'"
Were you and Mark Bazeley, who plays Bob, surprised by the reaction of Home Fires viewers?
"We were pleasantly surprised by how it was received. A relationship like Pat and Bob's is a very sensitive subject, so we were just pleased and proud we'd judged it right.
"We worked hard to make it not as simple as baddie and goodie or victim and abuser, so we were pleased that came across on screen. It's a complex, at times loving and at other times toxic, relationship, and we were relieved it came across as a multi-layered relationship. And Mark, who plays Bob, is so lovely in real life!"
Were there aspects of the situation that surprised you?
"There's this whole world of characters feet away from the Simms' house where this awful stuff's happening and nobody knows. It surprised me how easy it was to get a sense of isolation and shame in a relationship like that, just by the nature of the scenes where nobody's talking about it."
How is Pat at the beginning of the second series?
"Pat is still the same woman, but a weight's been lifted because Bob's away. So her world, although it hasn't changed to all intents and purposes at all, has become a bigger, brighter world. She's not constrained by the heaviness of having Bob in the house and all that implies."
How does her liberation reveal itself?
"Pat's working at the telephone exchange, which is a great source of pride and independence for her. She's also continuing her work with the Women's Institute. It just an easier life for her when Bob's not there."
How would you describe her environment when Bob is around?
"It's so oppressive when he's there; it's hard for her to question that her reality could be different. Without Bob around little doors start opening in Pat's mind. She can take time to enjoy the company of the women in the WI or the sun on her face without having to rush home. It's a subtle liberation. She even spends some of the money she's earned on a new dress and, you know, Pat's wardrobe isn't great!"
She also begins a romance with Czech soldier Captain Marek Novotny. How does that come about?
"Quite by chance she's involved in a brawl in the street between some Czech soldiers and some local men. This Czech captain helps her up and introduces himself to her. But Pat's self-esteem and her sense of herself as a woman is so low and damaged it never occurs to her she could be seen as attractive to someone, or that someone would give her time of day other than to be polite!"
What changes?
"It very slowly dawns on her this Captain Marek (Alexandre Willaume) is a man who's looking at her in a way she never thought would happen. Through conversations with him and with her sense-of-self widening, she finds herself talking about her relationship with Bob to him. And before she knows it Pat realises she's fallen in love with Marek! It just blows her mind and is a wonderful, unhindered feeling at the beginning."
Will Pat and Marek's secret relationship be blown out of the water when Bob returns home injured from the war?
"It's swiftly dampened by Bob's arrival back home to Great Paxford. So many complications come with that. Her relationship with Bob is deeply ingrained in the past they share together - both the good times and the traumatic things. Once he afforded her great respect and independence and it was a real partnership, but that gradually diminished and diminished until it became this abusive relationship."
Does Bob continue to be abusive on his return?
"With Bob back, very swiftly doors that were opening shut down all around her. Life with Bob's oppressive. He can't help himself and says things that are like knives to the gut. She's in a real dilemma. Although Pat's feeling things she hasn't in years, it's appalling to her because she's a married woman. And the implications if Bob finds out are terrifying!"
Find out if Pat can keep her clandestine romance a secret from Bob in Home Fires on ITV this Sunday at 9pm
Get the What to Watch Newsletter
The latest updates, reviews and unmissable series to watch and more!
Writer for TV Times, What's On TV, TV & Satellite Week and What To Watch
With twenty years of experience as an entertainment journalist, Elaine writes for What's on TV, TV Times, TV & Satellite Week and www.whattowatch.com covering a variety of programs from gardening and wildlife to documentaries and drama.
As well as active involvement in the WTW family's social media accounts, she has been known to get chatty on the red carpet and wander into the odd podcast.
After a day of previewing TV, writing about TV and interviewing TV stars, Elaine likes nothing than to relax… by watching TV.