How Olly Murs and Caroline Flack got their X Factor jobs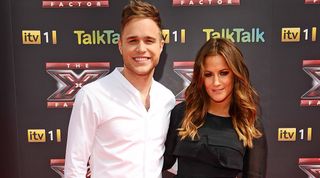 Olly Murs and Caroline Flack have revealed how they bagged their X Factor roles – Simon Cowell wooed Olly with a curry, but Caroline only got a single glass of wine.
The former Xtra Factor presenting duo will take Dermot O'Leary's place hosting the main show this year.
http://www.youtube.com/watch?v=kXB2JGWXbSQ&feature=oembed
Former contestant Olly told the Daily Mirror: "I always get a text at some point from Simon Cowell saying, 'Olly, we need to talk about X Factor, I think you should do the show with me this year'. Every year!
Simon Cowell (Jonathan Brady/PA)
"He always said I was a big ambassador of the show and he wanted me to be part of it at some stage. But this year it was more formal, he asked me to dinner.
"I go round to his house and he has all these amazing curries that have been homemade in his kitchens… a proper feast. And then at his end of the table there was this huge bowl of shepherd's pie. He said, 'I decided I didn't want curry in the end, so I'm having shepherd's pie. But I know you wanted curry'."
However, Caroline added: "Well, I definitely didn't get fed! I had one glass of wine, that was it!"
Caroline Flack (Dominic Lipinski/PA)
Olly said of what he'd like to change: "I said I felt the show was very serious. So I said to Simon, it's Saturday night, people want to have a good time, they want it to be exciting, fun and an incredible show… That's what I think X Factor needs to bring back. Fun and excitement."
He went on: "The hardest thing at the moment is finding a catchphrase! We've had sleepless nights. [There's one] from Uptown Funk: 'Saturday night and we're in the spot. Don't believe me? Just watch'."
Caroline groaned: "No, we're not doing it! He thinks we should do this every Saturday night! I mean, come on. It's not exactly Bruce Forsyth, is it? It's not quite as catchy as, 'Nice to see you, to see you nice', is it?"
Olly Murs (Ian West/PA)
She also revealed: "Olly's gone posh, as well. His voice has changed. I reckon he's been having elocution lessons."
Olly explained: "It's because when I watch myself back, I sound so common."
Singer Olly also said he had been in touch with Dermot: "I was annoyed because it came out that we might be doing it the day he announced he was leaving. So I texted Dermot to say I'd love to chat, and he was great. He said, 'Olly, if you do the show, I'm always here to chat'. He said it was time for a change and a new challenge for him."
Louis Walsh (Niall Carson/PA)
The pair also talked about speculation that Louis Walsh would leave the judging panel.
Caroline said he had supported her during rival Saturday night programme Strictly Come Dancing: "It won't be the same without Louis if he does go. Especially afterwards, in the bar! He is an absolute joy to be around. He's funny and he's sweet. I'll miss Louis. What a nice man. He used to text me after Strictly and say, 'You were brilliant tonight'. How cute!"
Olly agreed: "People love him, he's part of the furniture. I'm sure he'll still be down there every week anyway."
Get the latest updates, reviews and unmissable series to watch and more!
Thank you for signing up to Whattowatch. You will receive a verification email shortly.
There was a problem. Please refresh the page and try again.