How to watch The Little Mermaid
The live action remake of The Little Mermaid is finally here!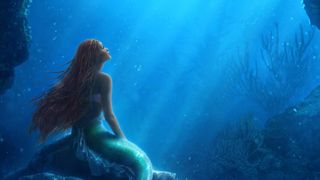 (Image credit: Walt Disney Studios)
Another classic 1989 animated feature is getting a modern live-action remake. The 2023 version of The Little Mermaid stars Halle Bailey in the lead role of adventurous mermaid Ariel, who longs to be able to explore the world beyond the sea.
Bailey is joined by an all-star cast who bring this beloved story to life, making it the perfect movie to kickstart the busy summer blockbuster movie season.
Here's what you need to know to watch The Little Mermaid.
How to watch The Little Mermaid in movie theaters
The Little Mermaid is playing exclusively in movie theaters on May 26 in the US and the UK.
To see where The Little Mermaid is playing near you, check your local theater's website for show times and tickets, or you can use Fandango to see all of the places the movie is playing near you.
We all know that going to the movies can be a little expensive, so you can check out our guide on the best movie theater subscription and memberships. Here you'll find information about US and UK movie theater chains that provide subscription and free membership deals, including what they offer in terms of discounted/free tickets and other perks like concessions.
Is The Little Mermaid streaming?
The Little Mermaid will enjoy a theatrical run before making a splash on Disney Plus. Generally, new movies will run in theaters for about 45 to 60 days before landing on streaming platforms, depending on how well they perform in theaters. If they're performing well, they may remain in theaters longer.
What else to know about The Little Mermaid
If you've been living under a seashell and don't know what The Little Mermaid is about, here's a great summary from Walt Disney Studios: "The Little Mermaid is the beloved story of Ariel, a beautiful and spirited young mermaid with a thirst for adventure. The youngest of King Triton's daughters, and the most defiant, Ariel longs to find out more about the world beyond the sea and while visiting the surface falls for the dashing Prince Eric. While mermaids are forbidden to interact with humans, Ariel must follow her heart. She makes a deal with the evil sea witch, Ursula, which gives her a chance to experience life on land, but ultimately places her life — and her father's crown — in jeopardy."
The movie features Bailey as Ariel, and she's joined by Daveed Diggs, Jacob Tremblay, Awkwafina, Jonah Hauer-King, Art Malik, Noma Dumezweni, Javier Bardem and Melissa McCarthy.
The movie has a Certified Fresh Rotten Tomatoes score of 71%.
Watch the trailer for The Little Mermaid right here:
Get the What to Watch Newsletter
The latest updates, reviews and unmissable series to watch and more!
Editorial Content Producer
Sarabeth joined the Watch to Watch team in May 2022. An avid TV and movie fan, her perennial favorites are The Walking Dead, American Horror Story, true crime documentaries on Netflix and anything from Passionflix. You've Got Mail, Ocean's Eleven and Signs are movies that she can watch all day long. She's also a huge baseball fan, and hockey is a new favorite.
When she's not working, Sarabeth hosts the My Nights Are Booked Podcast and a blog dedicated to books and interviews with authors and actors. She also published her first novel, Once Upon an Interview, in 2022.