'My cat is the best alarm clock in the world' says BBC Breakfast's Carol Kirkwood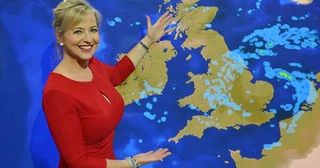 Every day millions of people wake up to the sound of Carol Kirkwood presenting the weather forecast on BBC Breakfast. But what's it really like being the first voice the nation hears every morning?
The nation's favourite weather presenter Carol Kirkwood spills the secrets of her trade...
You're always so cheerful in the morning. What's your secret? "I'm cheerful because I love my job. I get to work with my friends on daily basis and I love the weather so it's a win-win situation!"
Do you think it's important to give people a nice start in the morning? "Absolutely! I always think about the audience before I start. We all feel a bit groggy in the morning so I try to give them all the crucial information without complicating things. None of us like to think too hard when we're still waking up!"
What time do you have to get up in the morning? "I have to get up at 2.45 in the morning, which is basically the middle of the night! When I get out of bed I'm like a zombie. If I press 'snooze' on my alarm clock then my cat Donald wakes me up. He's used to having breakfast at that time so if I don't get up, his little paw comes across my cheek and he starts walking up and down my body. I also got to meet the famous Grumpy Cat recently, which was a real treat!"
Do you get recognised when you're out and about? "All the time, but I think it's so nice that people bother to come up and say hello. We Brits love to talk about the weather and whether we're going to get a summer or not. People often say things like, 'I'm getting married in June next year, what do you think the weather is going to be like?' which, of course, is something I couldn't possibly answer! But I'm always happy to chat to people, because after all, they're our audience!"
You present the weather in front of a black screen, is that difficult? "At first I found it really tricky. All you can see is a reflection of yourself, so it's like looking in a mirror and trying to tap your head and rub your tummy at the same time! The first time I did it, it was a nightmare, my hands were all over the place.
"I was like a plank of wood when I first started, talking very stiffly because I was concentrating on my hands. But when you finally get into the swing of it it's so satisfying! I look back at those old clips and I'm mortified!"
Have you had any mishaps while live on air? "All kinds of things can go wrong in the studio. Sometimes it's difficult not to laugh because we're having such fun. One time the necklace I was wearing fell off. It wasn't done up properly and got caught behind my earpiece and gradually it came off as I was doing the forecast. I had the producer saying; 'The necklace is coming off. It's going! There it goes!' It was difficult to keep a straight face."
What do you do if you want to laugh when you're live? "Sometimes it gets the better of you then and you have to have a little chuckle, but you can try and hide it by turning it into a cough. Or you look away from the screen, look behind you to try and disguise that you're about to laugh. That's the hardest thing, not to laugh at inappropriate moments. Otherwise people might think you're laughing because the weather is bad where they live!"
Do the whole BBC Breakfast team get on well? "We have a lovely team and we spend lots of time together outside work. Sally Nugent, Steph McGovern and myself have even been on holiday together a few times. It's such good fun. You trust your colleagues though, which makes such a big difference. There's a real bond between all of us and if someone is struggling then you pull them through!"
Have you ever experienced any extreme weather conditions while you've been doing a forecast? "I've reported from a blizzard before. We were in Northern Ireland at a place called Glenshane Pass and a blizzard came in just as we were about to go live…
"It was almost impossible to stand up and it felt like I was being pelted by pins and needles in my face. It was so cold that I could feel my lips and my tongue freezing! The producers said, 'This is great television, have another minute!' and I was thinking, 'No! I don't want another minute!' But you can't say that so you have to carry on and try to keep going."
https://youtu.be/X_fvBDgQNgU
I bet you couldn't wait to get back to your hotel after that one? "Luckily the sound engineer had a kettle in his truck and he made me a cup of tea and wrapped me up in lots of coats afterwards! He was such a lovely man, he took good care of me!"
Was that the only blizzard you've reported from? "We were actually caught in the middle of another one in the grounds of Balmoral Castle in Scotland and it was freezing. I was standing there shivering, I had so many layers on but it was still freezing. Then the crew all threw snowballs at me at the end of my live forecast which was really unkind – but don't worry I got them back once we were off the air!"
You were a big hit on Strictly Come Dancing last year, do you still like to get on the dancefloor? "I only dance in my kitchen now! People are always trying to get me on the dance floor at weddings and parties, but no one dances like my Strictly partner Pasha Kovalev, so I've hung up my dancing shoes for the time being. Without him all I can do is mum dancing!"
Carol Kirkwood presents the weather forecast on BBC Breakfast every week day from 6am
Get the latest updates, reviews and unmissable series to watch and more!
Feature writer for TV Times, What's On TV, TV & Satellite Week and whattowatch.com
Sean has been writing about all things telly for over 10 years and in that time he's been lucky enough to interview stars like Ian McKellen, Tom Hardy and Kate Winslet. His favourite shows are The Great British Bake-Off, People Just Do Nothing and Succession and in his spare time he enjoys drinking tea, doing crosswords and watching football.
Thank you for signing up to Whattowatch. You will receive a verification email shortly.
There was a problem. Please refresh the page and try again.