James Crossley - aka Hunter from Gladiators - breaks world record for lifting the famous Dinnie Stones!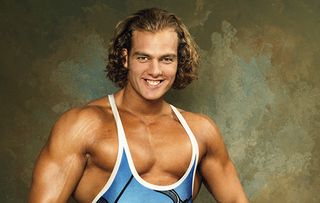 (Image credit: ITV/REX/Shutterstock)
James has been determined to smash the record
James Crossley, better known to fans of Gladiators as Hunter, has beaten the world record for lifting the famous Dinnie Stones.
The 44-year-old star revealed that he beat the record on his last attempt. The previous record was 33.9 seconds and James set a new time of 34.58 seconds as he lifted the two enormous rocks at the Old Potarch Hotel in Aberdeenshire, Scotland.
James, who recently posted a picture of himself with Lightning from Gladiators, told the BBC Scotland news website: "I asked the trainer, did he think I could get there to the world record of 33.9? He joked that I might, if I made it my total life commitment.
"So basically my whole life for four months has resolved around these Dinnie Stones.
"I wake up thinking about Dinnie Stones, I go to bed thinking about Dinnie Stones."
The Dinnie Stones are two huge granite boulders which together weigh 332.49Kg or 733Lbs. Famous Scottish strongman Donald Dinnie managed to carry them both with his bare hands across the width of nearby Potarch Bridge in 1860.
James recently revealed he's dating This Morning's resident Dr Zoe Williams (pictured below).
"She used to be a Gladiator [Amazon]," he told Loose Women. "She was one of the new breed when Gladiators came back on Sky about eight years ago. She is a bit of an avatar, actually. I'm a bit jealous of her. She's a natural freak with her genetics and naturally very fit."
As well as lifting huge stones recently, James has also been busy with a DVD, Fit At 40, showing men of a certain age how to keep in shape.
Gladitors Pics: ITV/REX/Shutterstock. Zoe Williams pic: S Meddle/ITV/REX/Shutterstock
Get the latest updates, reviews and unmissable series to watch and more!
Thank you for signing up to Whattowatch. You will receive a verification email shortly.
There was a problem. Please refresh the page and try again.