Jason Durr on our 7 favourite things about Casualty nurse David Hide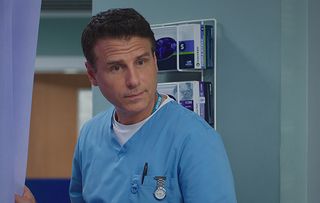 (Image credit: BBC)
We know why we love Casualty nurse David Hide but what does Jason Durr, who plays him, think?
There are many reasons to love Casualty character David Hide. He may be one of the quieter personalities on the wards yet from the moment David joined the team in 2016, he's been a big presence in the ED.
Since his first shift – when resident hospital eccentric Dylan Keogh called him 'an odd' fish' – David has had numerous highs and lows, and each one endears him to us even more.
Here we talk to multitalented Heartbeat star, Jason Durr, who plays David in Casualty, about some of our favourite things about nurse Hide…
1. His friendships
From Duffy to Dylan, David has a gift of seeing the best in everyone. We treasure his many friendships, particularly his bond with doctor Elle Gardner (Jaye Griffiths) and are always delighted when she gets away with calling him 'Dave'. Especially when you recall her overfamiliarity caused him to hide in a store cupboard when he first met her!
Jason says: "Their relationship is fantastic. Jaye and I have both fostered that over many years and put in all those little finer details.
"It's lovely that there is someone who understands how David's mind works and can talk to him in a language he understands."
2. His sudden enthusiasms
Although David is very much a temperate character, when he loves something he REALLY loves it. Remember when he met Vera (Rula Lenska), star of his all-time favourite film Where the Vampire Lies?
Jason says: "I love all his quirks! The thing with David is he doesn't give much away, but then at the same time you learn an awful lot about him."
3. His hidden complexities
When David first arrived in Holby it was clear he was hiding something. That something turned out to be a troubled family life, and over time we've learned his brother committed suicide, David suffers from bipolar disorder, and he has limited contact with his son Ollie, who lives with David's ex-wife Rosa…
Jason says: "It's always fascinating to slowly find out more and more about David. I love playing him. He's got so much mileage that I feel I've only really scratched the surface of him. There's so much in there that is worth investigating."
4. His unflinching loyalty
Whether it's picking Dylan up when his alcoholism overcomes him or helping refugee Sanosi, even though it could cost him his career, once David Hide is in your corner he's there for life.
Jason says: "You should always be on the edge of your seat with David because you just don't know what he's going to give you."
5. His sense of right and wrong
He may be meek, but if David perceives a wrongdoing taking place, or someone struggling, he will raise his voice. Standing up to Charlie gets David suspended this week, but David's inbuilt sense of right and wrong overrides self-preservation every time…
Jason says: "David is a moral compass. He has a moral centre. He tries to do the right thing for others.
"The question is, who is there for him?"
Which leads us to...
6. He's easy to care about
There's no doubt David has struggled and is keenly sensitive. So whenever David seems internally perturbed or publicly picked on, we can't help but care about what it means for him.
Jason says: "David Hide has had to fight many demons in his life. And so we can never really settle down at home on the sofa in front of the telly and think everything is absolutely all right with David. Transparently it isn't.
"That's not to say it affects him on a daily basis, but it's always there, bubbling under the surface."
7. The mystery of his bum bag
David Hide is rarely seen without his bum bag. But what does it contain? Is it a type of security blanket? Constantly curious about it's contents, we asked the man himself…
Jason says: "It's a state secret. David's the only one who really knows. It's something I can never give away, because it's so many things.
"It's his life support really, and what keeps him going. But also, whenever anyone needs something, David is always at hand.
"Short a pair of surgical gloves? David will have some in his bum bag.
"Stuck in a lift and need a Swiss army knife? You know who to look at.
"A sandwich, the kitchen sink, an exhaust pipe… it all fits in there miraculously. Like Mary Poppins!"
We think he's pulling our leg!
Casualty continues on BBC1 on Saturday. Also available on BBC iPlayer.
Get the latest updates, reviews and unmissable series to watch and more!
Thank you for signing up to Whattowatch. You will receive a verification email shortly.
There was a problem. Please refresh the page and try again.