Connie's bitten by the green-eyed monster!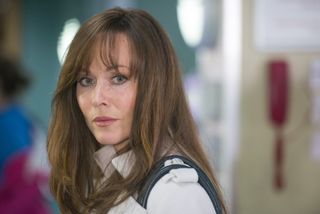 (Image credit: BBC)
Connie's jaw drops when she discovers her ex Jacob and the ED's new consultant Elle Gardner have known each other since they were at school.
They're clearly very close and even have pet nicknames for each other. And Elle has influence over Jacob – she talks him into attending an accident with her, without getting permission! Connie hits the roof when Elle and Jacob return! Elle's already popular in the ED, CEO Henrik Hanssen's a big fan, and clearly Jacob's loyalties lie with the newcomer. It's possible Connie should be worried for her clinical lead position…
Elsewhere, Dylan's degenerate dad, Brian, comes crashing back into the medic's life when he turns up at the ED needing stitches.
The surprises keep coming when it turns out Brian's got Dylan's baby sister Rihanna in tow with him! Although Dylan knew Brian had a baby with his new, younger girlfriend Hazel, he just wasn't expecting them all to turn up at his place of work…
Reluctantly Dylan agrees to treat his father, although it's clear no love is lost between the two. Despite all the barbed comments and digs, Dylan realises his father has a serious lung condition.
Hazel does her best to repair Dylan and Brian's broken relationship and pressurises Brain into building bridges with his son. But as Dylan considers their offer of becoming Rihanna's godfather, it is clear heavy-smoker and chronic gambler Brian isn't going to change his ways! Dylan decides to walk away from his damaging father, not wishing to reopen painful emotional wounds.
Also this week, Iain resolved to dump Rita, but changes his mind when she makes him a saucy offer he can't refuse! Max seems to have gotten over Zoe's departure already – but really he's just trying to mask his heartache. And new nurse David is personally tested by new consultant Elle's over-familiarity with his personal space and nicknames! He resorts to berating himself in the ED storeroom, only to be caught by a bemused Robyn!
Watch our video with Jason Durr for more on David's budding relationships with Elle and Dylan!
Get the latest updates, reviews and unmissable series to watch and more!
Thank you for signing up to Whattowatch. You will receive a verification email shortly.
There was a problem. Please refresh the page and try again.