Tonight's 6 best Casualty comedy moments!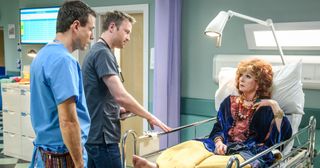 (Image credit: BBC)
What's on TV's guide to the best wisecracks in tonight's episode of Casualty
It was another fraught shift at Holby with Dylan's baby sister Rihanna nearly plummeting to her death after her feckless father accidentally set their home alight with a cigarette… But it wasn't all doom and gloom. Here's our guide to the best comedy moments of the night!
Dylan ruins jelly babies for everyone Dour doctor Dylan's description of jelly baby sweets: "Cow bone, sinew and water – it's not really my thing." He added: "The cannibalistic connotations bother me as well."
Bum pun Loved-up Connie and Jacob's plastic poo joke didn't hit a bum note with viewers, with one Casualty fan tweeting
We loved Charlie's incomprehension at his accidental pun moment. Holding a plastic poo, he uttered the words: "I will get to the bottom of this."
Cake-gate When Robyn dropped Glen's homemade Battenberg (nothing rude) she was quick to christen the occasion Flattenberg. But it was David's frightened scurrying away from the scene of the cake crime that had us laughing!
Everything Coronation Street star Rula Lenska said and did Rula Lenska's guest role as fading film star Vera Vintner was excellent. Her best quip?
To hospital porter, Max: "You remind me of one of my co-stars… Werewolf boy. Rather hairy – even out of costume"
Fan boy David Rula wasn't the only one who's comedy game was first-rate. Nurse David Hide's reaction to meeting the star of his all-time favourite film Where the Vampire Lies was priceless. All the hats off to Jason Durr for showcasing excellent physical comedy skills.
Football schmutball Dylan again, and his attempts to book football tickets to see a match with his father. His unenthusiastic description of football: "Men in shorts hoofing an inflated pigskin back and forth."
Quality Casualty comedy, read our episode recap here.
Get the latest updates, reviews and unmissable series to watch and more!
Thank you for signing up to Whattowatch. You will receive a verification email shortly.
There was a problem. Please refresh the page and try again.