Johnny Vegas: 'Home From Home is a class comedy'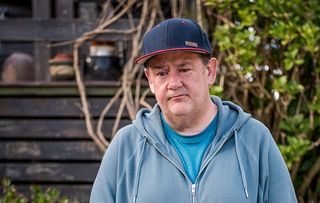 (Image credit: BBC/James Stack)
Johnny Vegas tells TV Times about his new holiday park comedy Home From Home….
After his years as Geoff 'The Oracle' Maltby in Benidorm, Johnny Vegas is embarking on a very different holiday in BBC1 comedy Home From Home. The series, which began as a pilot in 2016, sees Johnny play motorway service station worker Neil Hackett. Hot-tempered Neil owns a dilapidated holiday lodge with long-suffering wife Fiona (Niky Wardley) and their children. But he soon clashes with snooty fellow holidaymaker Penny Dillon, played by Emilia Fox.
TV Times How would you sum up the show?
Johnny Vegas: "It is a class comedy but the problems are generated in Neil's head. He sees Penny and her husband Robert [Adam James] as people who have everything he hasn't. He has simmering jealousy. Neil's always the architect of his own downfall."
TVT Why do you think a holiday park is such a good setting for comedy?
JV: "Holidays always heighten tensions and a park like this is a real social melting pot. For the Hacketts, their lodge is a dream come true but it should be called Amityville because it looks like a haunted house!"
TVT Neil lands himself in some extraordinary situations from burying himself in cement to getting lost in the mountains and going up in a hot air balloon, what was the most memorable to film?
JV: "The hot air balloon because I don't like heights and it wasn't great looking over the side of the basket but Emilia loved it and was almost hanging off with one arm."
Have you enjoyed filming in the Lakes?
JV: "Oh yes, because the sun has been out a lot and the Lake District is another character in the comedy. There is so much to explore there."
What were your own family holidays like as a child?
JV: "We went to Butlin's until my dad got laid off. Then I went on a charity holiday for deprived children. It was at a youth hostel in the middle of Wales and I was with Britain's hardest kids; it was horrendous. We never had foreign travel though. My brother told me it was because I was adopted and left on the doorstep and they couldn't get a passport for me. I believed him!"
Home From Home begins on Friday 20th April on BBC1 at 9.30pm
Caren has been a journalist specializing in TV for almost two decades and is a Senior Features Writer for TV Times, TV & Satellite Week and What's On TV magazines and she also writes for What to Watch.
Over the years, she has spent many a day in a muddy field or an on-set catering bus chatting to numerous stars on location including the likes of Olivia Colman, David Tennant, Suranne Jones, Jamie Dornan, Dame Judi Dench and Sir Derek Jacobi as well as Hollywood actors such as Glenn Close and Kiefer Sutherland.
Caren will happily sit down and watch any kind of telly (well, maybe not sci-fi!), but she particularly loves period dramas like Call the Midwife, Downton Abbey and The Crown and she's also a big fan of juicy crime thrillers from Line of Duty to Poirot.
In her spare time, Caren enjoys going to the cinema and theatre or curling up with a good book.
Thank you for signing up to Whattowatch. You will receive a verification email shortly.
There was a problem. Please refresh the page and try again.