Kate Humble: 'The sheep farmer was happy I have small hands, to get places his can't!'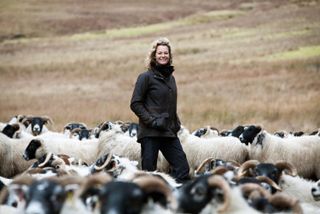 Lambing Live (opens in new tab) presenter Kate Humble tells What's on TV about the week of live farming – and why she doesn't feel guilty eating lamb…
Lambing Live is back after two years – what can we expect this series?
"I'm so excited to be back! This year we're up in the Scottish borders on the Dyke family's sheep farm. The farm is big and they have 450 expectant ewes waiting to give birth for us. It's going to be a busy week! We're filming 24 hours a day, working in shifts, so we're able to give people a true picture of four days of lambing. I'm there from six in the morning. We're never short of material; the hard thing is getting it all in."
Does going live every night scare you?
"No. I love the unpredictability of live TV. I've done live shows where we've literally lost power and gone off air. But that's fine, that's why people tune in – you never know what could happen. I think the thing that's so compelling about Lambing Live is that we can do all the planning we like and have everything in place, but when we go on air at 8pm it's going to be down to the sheep!"
Is there anything dangerous or unusual that could happen during lambing?
"You scan pregnant sheep in the same way you scan pregnant women and we've discovered that four of the ewes are expecting quads! I've never seen a ewe giving birth to four lambs. There would be something miraculous about witnessing quads being born, so there are some very tight fingers crossed in the production team that we get that live! It's a slight nightmare because a ewe only has two teats so that means somebody – probably me – will be up in the middle of the night helping to feed those lambs."
What are the Dyke family like?
"They've taken a huge leap of faith to let us on to the farm and into their home. We are quite invasive with our cameras, cables and lights, and live TV isn't made by two people, it's made by 80 people. It takes an extraordinarily brave and generous family to allow that to happen at a time of year which is already pretty stressful and high intensity. For sheep farmers, lambing is such a critical time of the year because it's the next generation, this is their year's profits. I hope that, by the end of the week, the viewers will understand what an extraordinary job sheep farmers in our country do."
You have your own flock of sheep on your farm in south Wales, don't you?
"Yes, I bought the flock after the first series of Lambing Live because I loved the process so much. I only have 10 sheep so it's a starter flock - my L plates. I don't have the land to have lots of sheep. But I still like to think I can be useful to the Dykes and not a hindrance. Actually, when I first met Hamish Dyke he said, 'Oh good, you've got small hands'. The inference being that I'll be useful getting to places that Hamish can't!'"
Do you feel guilty about eating lamb yourself?
"No. I eat lamb and it's delicious. I appreciate it more now I know where it comes from. Why should I feel guilty? It's what they're bred for."
*Lambing Live is on from Tuesday to Friday, March 25-28 at 8pm on BBC2
Get the latest updates, reviews and unmissable series to watch and more!
Thank you for signing up to Whattowatch. You will receive a verification email shortly.
There was a problem. Please refresh the page and try again.