Hollyoaks star Keith Rice wants to 'humanise' villain Finn O'Connor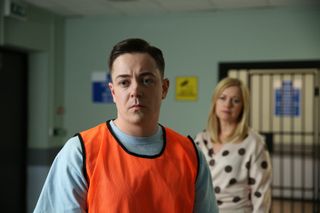 Convicted rapist Finn O'Connor is set to be released from prison, but has he been rehabilitated?
As Hollyoaks reintroduces controversial character Finn O'Connor, who was sent to prison in 2014 after raping teacher John Paul McQueen and attempting to assault Nancy Osborne, actor Keith Rice admits he is prepared for a 'mixed reaction' from fans.
'When the chance to come back was offered to me, I thought of it as an audience member,' he told Digital Spy. '"Do I want to watch this character again? Probably not!" But as an actor, I've got to humanise that character because there's something to still be explored there.'
Keith confessed he was 'concerned' about approaching the issue, knowing that it's still 'raw' for the audience, but thought it was important to tackle it.
'It's not even about Finn,' he insisted. 'Finn is a shadow around Sinead's storyline. It's about her, because she was attacked and she's still going through that, so it's still raw. It's how we mix it all together to create something that needs to be said.'
The actor admitted he 'didn't know' if Finn's time in prison had changed him, but said it was something he was keen to explore.
'Two years is a long time,' he pointed out. 'It's interesting to look at what Finn might have been through over the past couple of years, in terms of therapy and anger management. He's had time to assess things, to know where he went wrong and to develop as a person.
'It's a question of how a person with a criminal record like Finn's finds their place in society again.'
E4 viewers got their first glimpse of Finn in two years yesterday evening, when Diane Hutchinson was seen visiting her stepson in prison, in a last-ditch attempt to help his sister Sinead after she was raped by Laurie.
'People might not want to see it, but as an actor, I have to humanise the role and Finn will have to have a life,' said Keith. 'Although how that plays out, I don't know.'
Hollyoaks is shown weekdays on C4 at 6.30pm with the next episode following on E4
Get the What to Watch Newsletter
The latest updates, reviews and unmissable series to watch and more!