Jonna, The Challenge vet, burns a MAJOR bridge on World Championship
An all-out war is brewing between KellyAnne and Jonna, The Challenge: World Championship legends, and fans are choosing sides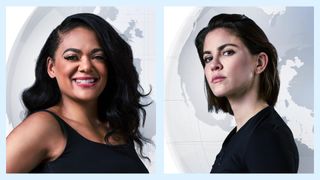 (Image credit: PARAMOUNT +)
Is trouble ahead for Jonna, The Challenge Legend? The bulk of the action in this Wednesday's The Challenge: World Championship episode actually wasn't "action" at all — in fact, outside of the elimination, there wasn't a challenge to be found this week.
Instead, it was "conversation" that dominated the game, with talk specifically centered on Jonna Mannion and KellyAnne Judd and whether the former — who won the daily challenge last episode— would turn against her latter friend and throw her and her partner Tristan into elimination.
"Friendships are important to a certain extent, but in order to be good at this and get till the end, you kind of have to remove your heart from the game," Joanna says. "I know if I put KellyAnne in and she comes back, we're apparently not gonna be friends anymore...I can't worry about what KellyAnne thinks in this game."
"The Legends, we play seasons with each other, we have relationships that expand multiple seasons, so for us to f**k one another over in this game, Legend on Legend crime I guess you can say, is not good unless it's super calculated because...that could mess with you in the future," The Challenge: World Championship cast member Tori Deal adds.
KellyAnne breathes a sigh of relief, however, after a one-on-one with Jonna, who assures her: "Out of everyone here, I feel like you are my best friend that I have here and I want to put past games aside and something is telling me that having you as an ally in this world championship is gonna be beneficial to both of us." She, and the viewers, are led to believe that Jodi and Benja would be thrown into elimination, instead.
So imagine all of our shocks when Jonna ruthlessly goes back on her word and sends KellyAnne and Tristan straight into elimination against Nelson and Jujuy. "I look at Jonna's face and I swear to god, she has a light smirk. I mean, at least pretend to be sad that you're throwing in your 'best friend' in the house," KellyAnne says, angrily.
She seemingly taps into that frustration to dominate the elimination challenge, which saw one partner swing another from a height as they collect eight building blocks until they have enough to build a towering structure.
"I can see Jonna sweating bullets here and KellyAnne has this piercing look," Grant worries after seeing how well KellyAnne is doing in the challenge. "KellyAnne comes in and she's a pocket rocket, she's a firefly, and I'm like, 'I don't know if you made the right choice, Grant, unless you want them to come back," Troy adds.
Quickly gathering all eight building blocks and stacking them together, KellyAnne and Tristan easily win, sending Nelson and Jujuy home. "The fact that Jonna went out of her way to say that she wanted to work with me and have an alliance with me moments before she decided to and didn't tell me, I have no room for people like that and I hope her energy just stays the f**k away from me," KellyAnne says.
"This game can change so fast, you just have to do one wrong thing and it just goes belly-up," Grant worries, as he should, because KellyAnne promises him and Jonna: "I'll deal with you as The Challenge proceeds!"
Fans react to KellyAnne and Jonna The Challenge feud:
Get the What to Watch Newsletter
The latest updates, reviews and unmissable series to watch and more!
Christina Izzo is the Deputy Editor of My Imperfect Life. More generally, she is a writer-editor covering food and drink, travel, lifestyle and culture in New York City. She was previously the Features Editor at Rachael Ray In Season and Reveal, as well as the Food & Drink Editor and chief restaurant critic at Time Out New York.
When she's not doing all that, she can probably be found eating cheese somewhere.