Forget Trump or Clinton… Kiefer Sutherland is the new US president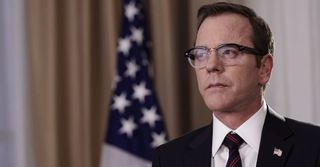 Kiefer Sutherland talks to TV&Satellite Week about playing the 'designated survivor', the only surviving member of the US cabinet after an enemy attack
After his ground-breaking role as Jack Bauer in 24, Kiefer Sutherland now has another high-octane hit on his hands in Designated Survivor. The 49-year-old actor plays politician Tom Kirkman, who finds himself suddenly occupying the Oval Office after an explosion on Capitol Hill kills the President and the rest of the Cabinet.
We asked Kiefer to tell us more…
What appealed to you about the show? "The writer David Guggenheim laid out three beautiful storylines that intertwine. You have the family drama: what happens to a family when they go from their own home overnight and move into the White House? The second storyline is headed up by Maggie Q as FBI agent Hannah Wells: who did the bombing, and what is the appropriate response?
"And then the storyline that I was initially the most excited about was the political one. It's about the issues and values that the US represents, and the impact of the country's decisions around the rest of the world."
Tell us more about the show's title... "The Designated Survivor clause really exists, and means that one member of the President's staff always sits out of the State of the Union address in case the rest of the government is blown up. In this case, it was Tom…"
Would you ever like to be a political leader? "Absolutely not. I think it's an incredibly difficult job that requires a lifetime of preparation. My grandfather in Canada was Premier of Saskatchewan for 16 years, so I've seen that political life up close. It's never been something that I have dreamed about."
Do you identify with Tom? "He is more like me than maybe any other character I have ever played. There is a real human emotion in his sympathy for the victims, and also the playfulness and the love that he has with his wife. I would like to think that I have a bit of that."
Are there any parallels between Tom and Jack Bauer from 24? "Jack Bauer's skill-set in 24 and Tom Kirkman's skill set are vastly different. However, they both realise that democracy is in danger and will do what they can to protect it. They are facing insurmountable circumstances, and they know they are not going to win completely, but they still engage and fight."
If you were the real US President, what would be your first decision? "For me, it's really simple. My grandfather was responsible for starting healthcare in Canada and it changed people's lives. The US does not have that, so health care would be the first thing that I would address."
What do you think of the upcoming 24 spin-off, Legacy? "I am not involved in Legacy in any way, but I couldn't be more thrilled for those making it. They have an incredible cast and I have always said that I thought the star of 24 was the idea. I'll be the first in line to watch it!"
Designated Survivor is available to watch on Netflix now. Watch the trailer:
https://youtu.be/N_f1v0Nx5Sw
Get the latest updates, reviews and unmissable series to watch and more!
Thank you for signing up to Whattowatch. You will receive a verification email shortly.
There was a problem. Please refresh the page and try again.