Kym Marsh reveals secret crush on Corrie hubby Simon Gregson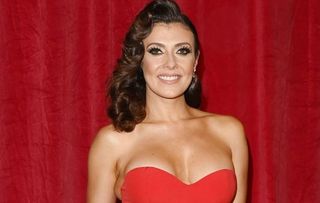 Michelle and Steve McDonald might be going through a tough time on screen, but actress Kym Marsh has revealed she had a big crush on her Corrie co-star in real life.
Coronation Street star Kym Marsh has revealed she had a real-life crush on her soap hubby.
The former Hear'Say singer has played Michelle in the ITV soap since 2006.
Michelle and Steve McDonald tied the knot last year, but Kym has admitted she thought Simon Gregson, who plays her other half, was a real heartthrob when she was in her teens.
She told the Daily Mirror: "I actually had a poster of Simon on my wall when I was younger, which is so weird. He was a heartthrob in the day! I love Simon, he's gorgeous like a teddy bear, he's lovely."
Kym, 40, added that co-star Simon, 41, is so funny that she often has trouble completing scenes.
She said: "It's a skill, you have to look slightly past him so you can't see his face. We just try to compliment each other and make it funnier. We enjoy working together."
In Corrie , barmaid Michelle is carrying Steve's baby, unaware he has also made neighbour Leanne [Jane Danson] pregnant.
But Kym insisted there will be no more babies in real life. She laughed: "No, no! I've done my bit for motherhood thank you."
The twice-married actress has two grown-up children, David, 21, and Emily, 18, and a five-year-old daughter, Polly.
Talking about switching from a pop to a soap career, Kym said: "I was well aware that everybody didn't know me as an actress so I had the pressure of people thinking was she any good or going to fall flat on her face. But everyone welcomed me and made me feel very relaxed."
The actress also said Beverley Callard, who plays her TV mother-in-law Liz, is a real hoot: "She's amazing. Beverley is such a giggler. If I have to tell her someone's died or something she'll lose it and start laughing. We get told off sometimes."
Kym also revealed that she has no plans to leave the soap: "Pop Stars was filmed at the Coronation Street Granada studios so I've kind of went full circle really. I'm very happy. I really feel I've found my home."
Get the What to Watch Newsletter
The latest updates, reviews and unmissable series to watch and more!