Line of Duty's Martin Compston on his delight at being in Still Game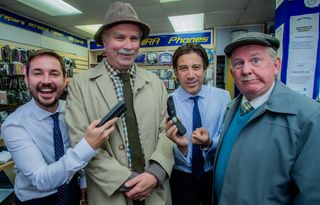 (Image credit: BBC/Alan Peebles)
Martin plays a mobile phone salesman in the Scottish sitcom
Line of Duty star Martin Compston will show his lighter side tonight in BBC1 comedy Still Game.
The 35-year-old actor, who's best known for playing Line of Duty's Steve Arnott, is guest starring as a mobile phone salesman in the first episode of the final series of the Scottish sitcom.
And Martin, who's married to actress Tianna Chanel Flynn, reveals how his character comes into contact with Glaswegian pensioners Jack (Ford Kiernan) and Victor (Greg Hemphill).
"My character comes across Jack and Victor when they're trying to buy mobile phones and they come into his shop.
"I know the boys as Ford and Greg but when they put on the make-up and start becoming the characters it really is a very surreal moment. Luckily I was filming Line of Duty at the same time so I was able to pop over from Belfast and shoot my scenes. It was an epic day. To see the boys do their thing was immense."
MORE: Tom Bateman on why Beecham House isn't 'Downton in Delhi'
Martin, who starred early in his career in the Ken Loach film Sweet Sixteen, adds that he's "gutted" Still Game is finishing.
But he believes all good things must come to an end, saying: "It's better the boys taking the decision to end it rather than it being forced upon them. This way, they can actually write an ending.
"I was on a show called Monarch of the Glen and it was great for us to actually have a last episode. It was really emotional and every character got a proper send off.
"I know the boys are saying it's done but the fact that they're playing old guys, 20, 30, 40 years older than them means that there's so much scope for them in the future.
"But that depends on the ending. They could literally bring this show back in 30 years time – just using less make-up!"
Martin goes onto reveal Midge Ure also has a cameo in Still Game!
"I a did the Urban Myths: Backstage At Live Aid show where I played Midge Ure who also has a little cameo in this. I'd never met him before and now he's everywhere I go!"
Catch Martin Compston in Still Game tonight on BBC1 at 9pm (Wales, 9.30pm).
Get the latest updates, reviews and unmissable series to watch and more!
Thank you for signing up to Whattowatch. You will receive a verification email shortly.
There was a problem. Please refresh the page and try again.