Martin Lewis: How to save a small fortune on your family holiday!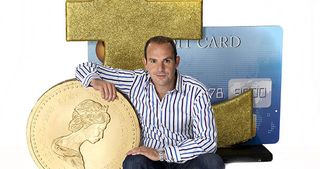 (Image credit: John Rogers)
Consumers' champion Martin Lewis (opens in new tab) is the UK's go-to guy for getting stuff cheaper.
TV Times (opens in new tab) grabbed a few minutes with This Morning regular Martin to ask about the best family bargains to be had this summer.
Procrastination is good!
Tip: Haven't booked your summer package holiday with a big tour operator yet? Leave it awhile…
Martin says: "The cheapest time to book traditional package holidays is eight to 10 weeks before the holiday. If you've left it this late and can be very flexible about when and where you go and what facilities are on offer, wait awhile longer, because prices tend to reduce the nearer you get to the day.
"Then haggle! Remember that package holidays are like a Blue-ray disc sold at different prices in different shops. Get the details of the holiday you want and phone up different travel agents – specifically, late booking specialists – to see if any will cut the price."
Don't fritter away the euros
Tip: The cheapest way to spend abroad is on a specialist overseas credit card
Martin says: "Most debit and credit cards add a 3% non-sterling transaction fee when you spend abroad, so 100 euros costs you 103 euros. Specialist cards come without that fee and give you the same near-perfect rate the banks get – the Halifax Clarity Credit Card is my top pick.
"However, remember this: only use this card if you always pay your bill IN FULL at the end of every month or you will be charged interest. Because it's a credit card you'll need to apply for it several weeks in advance, and you will be credit-scored when you apply. Using the eligibility calculator on www.moneysavingexpert.com (opens in new tab) will show you which of the top cards you're likely to get."
Be savvy
Tip: Never withdraw cash at the airport
Martin says: "The airport is by far the most expensive place to withdraw cash because you get the worst rates – so if you've left it late, at the very least pre-order foreign money for airport pick up. See here (opens in new tab) for more. You'll get a better rate of exchange."
Drive happy
Tip: The early you book your rental car, the cheaper
Martin says: "Use sites like kayak.co.uk (opens in new tab) and travelsupermarket.com, which have comparisons on rental cars. But beware: some cheap car hire firms make you pay for a full tank and return it empty, so if you're not driving far, that's 100 euros extra on your bill. Also, they will tell you that you need excess insurance – if you buy it before you go you'll pay as little as two euros a day instead of 20. Check out moneymaxim.co.uk. But be aware that if you don't buy the hire firm's excess, they will ask for a deposit of 600 euros on a credit card.'
Stay healthy
Tip: Make sure your EHIC card is valid
Martin says: "Your European Health Insurance card ensures you get medical treatment in a state-run hospital in the EU at the same cost as a local. If it's free for them, it's free for you. However, millions of Brits are carrying outdated cards that are not valid!
"You need one for each member of the family, including children. To apply or renew, go to the NHS website to get one. Remember, these cards are free. There are scam sites that will try to charge you by saying 'fast track'. If anybody asks you to pay, you are on the wrong site."
Tremendous twofers
Tip: Take advantage of two-for-one offers
Martin says: "The Days Out Guide rail website (opens in new tab) has 2 for 1 vouchers for destinations such as London Zoo, where an adult ticket is normally £22.50, so a two-for-one can be valuable. To use the vouchers you need a valid rail ticket for the day, but if you haven't travelled by train just pop into a local railway station and buy the cheapest rail ticket and use that to get you two-for-one."
Museum freebies
Tip: The UK offers a wealth of free days out
Martin says: "Don't ignore the enormous wealth of free museums around the UK. One of my favourites is the Coventry Transport Museum which has a DeLorean Back to the Future car and is great for car enthusiasts little and big. It's a full day out. Check out my website for a very useful list of free museums."
The cheapest of cheap hotels
Tip: University dorms often rent out rooms
Martin says: "If you're planning a city break this summer in the UK, consider staying in university halls of residence, which during the summer often allow their rooms, including family rooms, to be rented out to tourists. Some even include breakfast. It's a great way of getting a cheap hotel room in an inner-city location."
Hostels for all!
Tip: Consider a hostel holiday
Martin says: "When many people picture a hostel they think of a sweaty dorm room with a shared loo, but hostels have upped their game. They have single rooms and some en-suite facilities and some even have family rooms. In most cases they're far cheaper than hotels. They're also more sociable."
Tennis, anyone?
Tip: Take advantage of free tennis lessons
Martin says: "The Great British Tennis Weekend on 1 and 2 August aims to get thousands more people playing tennis by offering free coaching at about 150 venues around the country. Book in advance and get free coaching for you and your kids. It's a great way for the whole family to brush up their tennis skills. See clubspark.lta.org.uk (opens in new tab) to find a place near you."
Get the latest updates, reviews and unmissable series to watch and more!
Thank you for signing up to Whattowatch. You will receive a verification email shortly.
There was a problem. Please refresh the page and try again.