Mary Berry reveals her earliest memories and culinary secrets!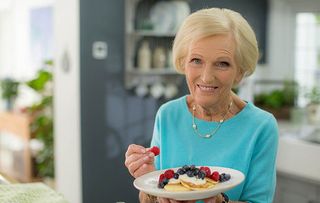 (Image credit: BBC/Sidney Street Productions/En)
We asked Mary Berry about few of her favourite things, including best cooking tips and earliest memories
Mary Berry is a busy lady. She's also a wealth of information on all things culinary and life. So, when we grabbed some time with the accomplished Great British Bake Off star to talk about her current cooking series, Classic Mary Berry, TV Times used the time wisely.
Here we ask Mary Berry about her favourite things, best cooking tips, and earliest memories in a quick fire question and answer session…
TV Times asks: Mary, how would you finish the following sentences?
My favourite meal is… A roast best end of neck of lamb with mint sauce. My mother used to call it 'chops in a bunch'. Just after the war, when meat was short, we used to have all the vegetables with mint sauce but without the lamb. Now delicious English lamb is plentiful I appreciate it.
The worst thing I've ever eaten is... Oysters. I've tried them but I'm not fond of them. I've never acquired a taste for them. I also don't enjoy seed cake – I don't like caraway seeds.
The one food I can't live without is… Toast and marmalade! I like almost all food but something I absolutely must have in the morning is toast and marmalade.
The best meal I've had prepared for me is… I recently had a wonderful meal at Le Gavroche, Michele Roux Jr's restaurant. I don't mind what I have there because it's always so beautifully prepared and very special.
The person who taught me the most is… My cookery teacher Miss Date. I remember when I started cooking in domestic science lessons. It was my sanctuary at school.
The best cooking tip I've ever been given is… When you're baking, weigh carefully and follow a good recipe.
The cooking gadget I couldn't live without is… At my stage of life I'm very keen on having a mixer and a processor. I'm a bit tired of chopping and beating. A sharp knife is a must too!
My earliest food memory is… Shrimps being peeled at Parkgate in Neston, Cheshire. It was on a visit to an aunt and I can remember seeing ladies sitting on chairs at their front doors shelling shrimps. My father bought some and we took them home and ate them.
The best piece of advice I've been given is… Don't put off till tomorrow what you can do today! Get everything done today – preparation is the greatest way to reduce stress.
Classic Mary Berry is currently showing on BBC1, Monday evenings at 8.30pm. Also available on BBC iPlayer.
Get the latest updates, reviews and unmissable series to watch and more!
Thank you for signing up to Whattowatch. You will receive a verification email shortly.
There was a problem. Please refresh the page and try again.